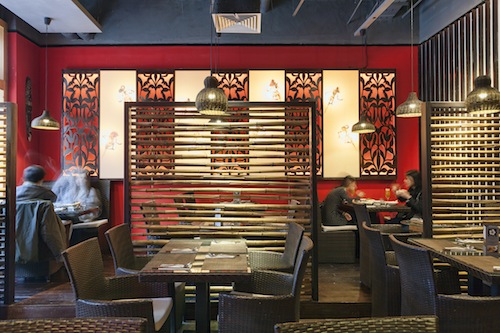 The most difficult thing about a visit to Raya Malaysian Restaurant – other than finding it – is deciding what to order. The menu is a cacophony of color promising exotic flavors in mouthwatering proportions. One thing that is immediately apparent is the focus on seafood, notably prawns. Flipping through the menu, each section reveals a different take on the tasty crustacean, although crab, fish and chicken also make a good showing.
You could start with the seafood tom yam goong (RMB 28/68), as we did. This was a refreshing soup, permeated with clear notes of lemongrass and lime, spicy and zesty, with just a hint of cream in the background for balance. The sambal four-angled beans (RMB 42) were a vibrant addition to the table, as they were beautifully cooked to the point where crunchy meets tender and tossed in an XO-style sauce to provide a punchy fish kick.
The Raya special buttered prawns (RMB 109) was definitely one of the most interesting dishes ordered. A topping of butter floss – much like the pork floss you see on bread in Chinese bakeries – was sprinkled generously over a handful of large grilled prawns. It was stylishly presented and well cooked, but we didn't really enjoy having to work our fingers through the buttery floss to relieve the prawns of their shells.
The curry beef (RMB 48) was perhaps the biggest let down. It had the usual style of sliced beef we've grown accustomed to in Beijing, and a sauce that, while not unpleasant, was simply unremarkable. If not for needing to later write about it, it would have been quickly forgotten. All in all, while we wouldn't necessarily replicate our selection, there was enough satisfaction in the several dishes and enough promise in the untried dishes left on the menu to warrant a return visit.
Raya Malaysian Restaurant
Daily 10am-10pm. E156, Tower E, World City, 8 Jinhui Lu, Chaoyang District (189 1015 0773)
大马美食:朝阳区金汇路8号世界城E楼E156
600m south of Dongdaqiao station (Line 6)
Also try: Cafe Sambal, Nyonya Kitchen
A version of this article appears in the February 2014 issue of the Beijinger
Photos: Sui