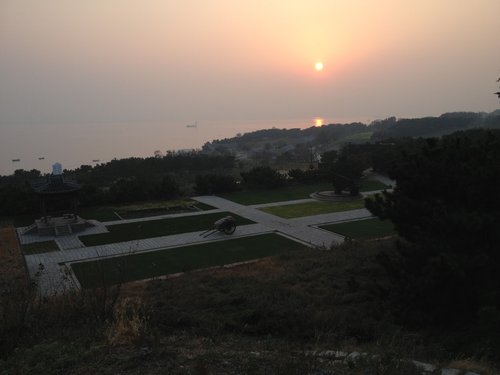 Originally we said this week would be four destinations, but in good conscience we decided to stick with three. For these destinations all you'll need is a plane or train ticket because these domestic trips will have you staying closer to home.
1. Weihai. Called "Wei-Hai-Wei" at the time, Weihai was a British colony from 1898 until 1930. However, colonization did little for the place or the locals, but clearly the British were on to something. This pleasant, seaside city near the northeastern tip of Shandong province serves as a little brother to Qingdao in a way, but that's part of its charm. Whereas Qingdao is flooding with tourists during the summer, especially during its annual beer festival, Weihai sees an influx of visitors on a lesser scale. Only an hour's flight from Beijing (it hasn't been blessed with high-speed rail yet), Weihai's lack of a big beach may be a turn-off for some, but it makes up for that with secluded vistas overlooking the Bohai Sea. Liu Gong Island, a former Royal Navy base, is still dotted with numerous colonial homes, with many of them now abandoned. The island makes a great place for a walk or a picnic, although alternatively it also has numerous museums dedicated to the 1894-95 Sino-Japanese War, should that prove more interesting to you. When the sweltering heat of July and August come to the capital, the place to go to cool off is Weihai.
2. Ningbo. Except perhaps for Xiamen, no other city in China seems more comfortable with its time as a treaty port than Ningbo. Located about two hours from Beijing by air (direct high-speed rail service is only from Shanghai) in Zhejiang province, contemporary architecture stands side by side with churches that act as centerpieces for the city's landmarks. The confluence of three rivers makes Ningbo sort of the Pittsburgh of China, although the city's primary business is shipping, not steel manufacturing. The Qing'an Guild Hall, a beautiful Qing Dynasty courtyard temple, serves as a museum of Ningbo sailing history, but forget that: if you love classical Chinese architecture, this is a little-visited spot worth seeing. Across the river is the Old Bund with its active Catholic cathedral, and located nearby are cobblestone streets that serve as Ningbo's Sanlitun-ish entertainment district. Come Qing Ming Festival or May 1, Ningbo is a great spring weekend getaway.
3. Chengdu. The Sichuan provincial capital isn't a hot holiday destination for 2014, it just seems never to fade away as a popular destination. What's not to like? Authentic Sichuan cuisine, tea houses for whiling away an afternoon, pandas, and the convenience of a big city that isn't quite as big as Beijing. One could argue that Chengdu is the Beijing of China's southwest: designed using Beijing's square grid pattern, the city is easy to navigate for seasoned Beijingers. There are also a few familiar sights: The Bookworm has an active outlet there, and the Grandma's Kitchen franchise started in Chengdu before moving to Beijing. It's much warmer in Chengdu than it is Beijing in the winter, and unlike here it has a long spring. A bit further afield than our previous two cities, but worth a trip.
Last week we looked at four international destinations worth visiting in 2014. On that list we included Taiwan because you may need a visa as you would with any other international destination; with it, you will clear customs and immigration procedures both when leaving Beijing and when arriving there. That's all that means.
For those travelers headed to Thailand for Spring Festival, please read Is It Safe to Travel to Thailand? The advice and information in it is still valid.
Next week: planning your April, May, and June public holiday trips. Until then, Happy Chinese New Year, may the Horse be with you, and as always, "one road flat safe" *
* "一路平安"
Photo: Steven Schwankert