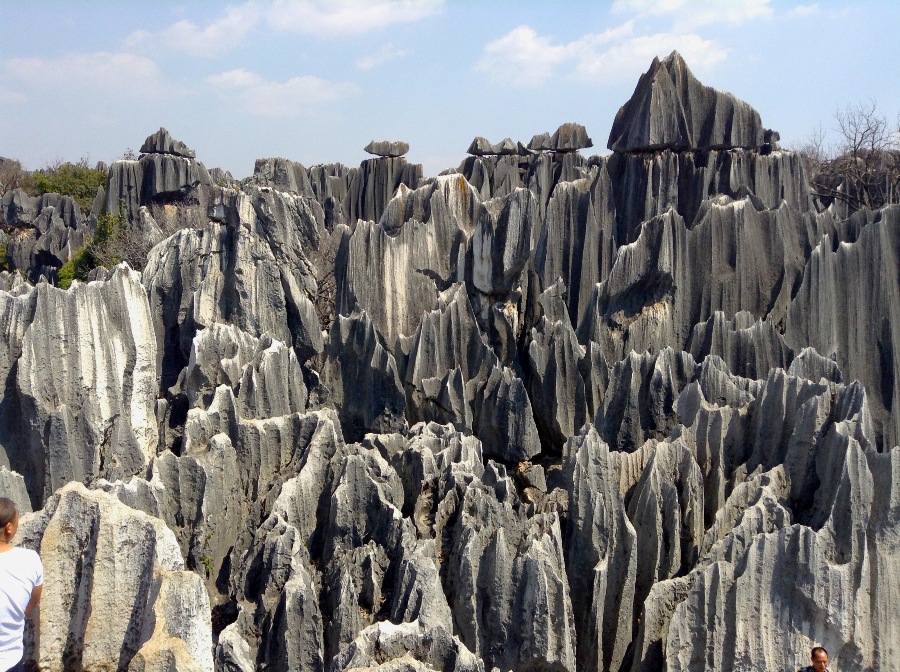 Flanked by Tibet, Myanmar, Laos, and Vietnam, China's southern province of Yunnan presents a stunning mixture of Tibetan and Southeast Asian cultures. Yunnan holds 25 of China's 55 officially recognized ethnic minorities and a plethora of rich topographical sights and weekend escapes, making it infinitely explorable, wonderfully diverse, and permeating it with a vibe that can only be described as laidback.
Kunming
Just east of the province's center, and a cool 2,000 meters above sea level, Yunnan's capital and third-tier city Kunming is blessed and defined by its "eternal spring" climate, apparently tailor-made for sweat-prone, pasty vitamin D deficient Brits, and the perfect, comparatively reposed, hub to explore the surrounding landmarks. Sights in the city proper include the huge Dianchi Lake to the southwest and the accompanying Xi Shan. Visitors can ascend to the summit via a winding road dotted with somnambulistic temples and Buddhist grottos carved into the rock. Hikers are further rewarded with a beautiful view across the city at the peak. In the center sits Green Lake, providing an escape from the nearby malls and the city's unending high rise construction, which has the quirky fortune of being bombarded by voracious Siberian seagulls in the winter months.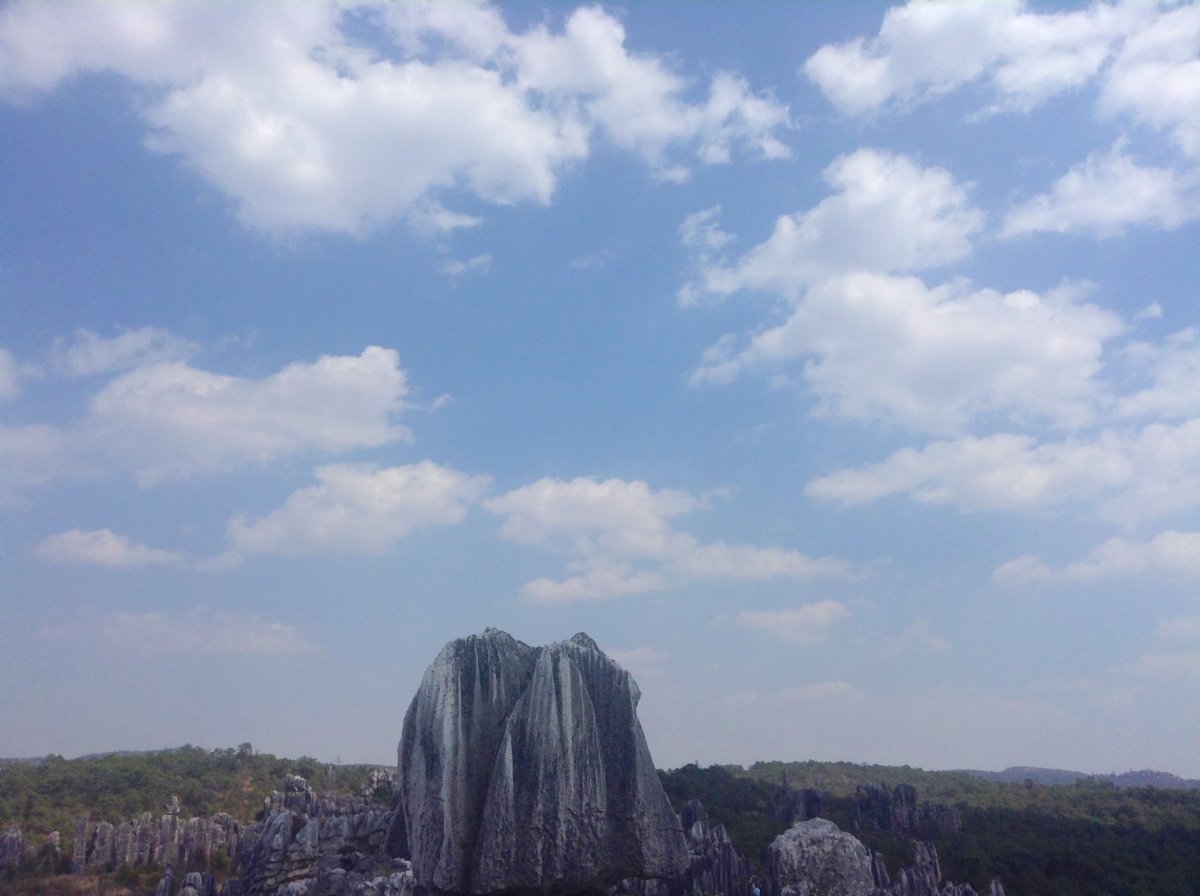 A little further afield, two hours east of the city, is one of the province's most famous sights: Shilin, or the Stone Forest. The sprawling park is made up of thousands of limestone karsts, which once marked the bottom of the ocean but have since been eroded by the elements. Now, they stand gnarled, phallic, and teetering towards the sky. It's a set taken directly from Jurassic Park, that's if, as with most of Yunnan's sights, you can dodge the far-from-extinct and flourishing herds of domestic tourists. Fortunately, the tour groups tend to mill around at the front of the park, completely oblivious to the kilometers of beautiful open green space at the back, thus leaving more breathing room for adventurous travelers.
Dali
Five hours west of Kunming by bus lies Dali, the Old Town of which is the closest thing to the continuation of Southeast Asia's Banana Pancake Trail in China. Dali is made special by its traditional wooden architecture (and less so by the requisite imposter western food chains), verdant scenery, and horizontal lifestyle, apparently in more ways than one, given that it has acquired the title of China's capital city for one-night stands. A fact difficult to corroborate, it can only have added to the swaths of Chinese travelers that slowly march down the main street. Those willing to travel a little further out to Shaxi will find a quiet escape akin to what Dali was said to be like a decade ago. Anyone interested should act quickly though, because the area is also being quickly overrun with concrete roads and other ugly infrastructure.
Lijiang
Another three hours north will land you in Lijiang, most notable for the residual effects of their once matriarchal society of the inhabiting Naxi people. This is demonstrated in women's dominant roles in society, from manual labor to business, a trend that apparently stretches through the province and marks it with a welcome progressive feel. The Old Town here falls somewhere between a theme park and a quaint Chinese village. It features alleyways cutting through newly-renovated wooden buildings and canals, and is also home to some hidden gems when you abscond from the main drags, which are only remarkable for the fact that every fifth storefront is inhabited by the same tune-inept cutesy girl banging on a bongo in an attempt to keep compact disc culture alive.
Tiger Leaping Gorge
There are however pockets of Yunnan that still remain comparatively peaceful and make for an adventure free from renao. The first is Tiger Leaping Gorge; a one- to two-day hike, depending on where you cut off the trail, 70 kilometers on from Lijiang, with none of the paving and tat-peddling that come with scenic notoriety. After a hard first few-hours ascent (local "spices" being offered but kindly refused along the way), the valley breaks open to reveal the turquoise Jinsha River below and the colossal snow-capped Jade Dragon Snow Mountain before a long downward amble. Both breathtaking and tranquil, it is easily one of Yunnan's best getaways and well worth the sweat.
Dongchuan Red Fields
The second less-traveled region is the Dongchuan Red Fields. Its maroon, clay earth is rich in minerals and as such, every inch is cultivated for crops: wheat, corn, and potatoes are rotated and harvested throughout the year, dividing the land into mesmerizing plots of husky reds, vibrant yellows, and lush greens akin to a color-by-numbers painting or Giuseppe Arcimboldo portrait. Be warned though, with the finishing touches to a giant viewing platform and ticketing tolls, it looks as though someone has big plans to solidify the area on the tourist map.
And finally, it wouldn't be China if you did any of that on an empty stomach. With ethnic diversity and temperate climes come the benefits of a plethora of cooking styles and varied plant matter, respectively, contrasting with the north's heavy reliance on wheat. The most prominent of Yunnan's ethnic cuisines is that of the Dai people, familiar to anyone who frequents Beijing's Xiao Yunnan, Dali Renjia, and Aimo Town restaurants. These restaurant's dishes are defined by a mixture of spicy and sour flavors on account of heavy use of chili, lime, and mint as well as anything else that can be scavenged from the province's rich milieu, including fungus, flowers, and bugs. When you're not eating Dai food, expect to consume your fair share of mixian, which with no semblance of exaggeration is what fuels Yunnan, and it's easy to see why given that it suits every meal, and is both filling and refreshing; fresh broth being the perfect accompaniment to the bouncy rice noodles.
If all of that isn't enough to convince you to head south, I would go as far as to say that people in Yunnan are visibly happier and are friendlier on the whole, an observation that means upon returning back to Beijing you can't help but ponder the spectral power of the sun.
More stories by this author here.
Email: [email protected]
WeChat: tenglish_
Instagram: @tenglish__
Photos: Tom Arnstein

Visit the original source and full text: the Beijinger Blog