I was instantly transported back into a misspent early childhood the moment the chiptune signature of Super Mario Bros. registered. Co-owner Dale obligingly cranked the volume at my station, and the next thing I knew, a few hours had passed. That's going to be the danger at the city's first retro video gaming bar.
There are three consoles installed currently – the NES, SNES, and the Sega Genesis, with an N64 and an uberretro Atari on the way – and if you don't know what they are, you probably have no business being in 8-Bit. Although, there are other reasons to stop by. A pint of Kirin will run you just RMB 25, with Vedett (RMB 45) and La Chouffe (RMB 40, 33cl) on draft alongside a selection of bottled Belgians and regulars (RMB 15-45) as well as a small cocktail and shooters menu, RMB 40 and RMB 20 respectively. Daily drinks deals challenge gamers to crack games in exchange for beer.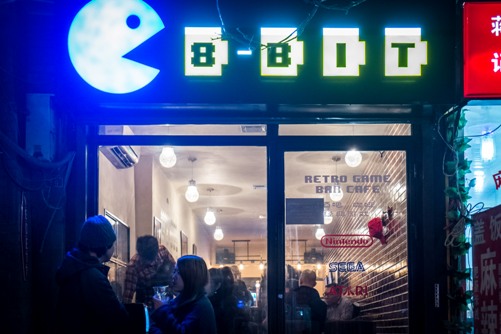 Dale says the idea behind the bar was first and foremost a love for game consoles of yore, but also because he enjoys bars that provide patrons something to do. They'll stage regular competitions at 8-Bit for those who, like him, crave more than a pool table or a satellite feed with their pint.
It must have been 20 years since I last visited the Mushroom Kingdom – Sensible Soccer on the Amiga hastened my old NES's departure to the car boot sale, but it was a charmingly quaint revisit to a better-natured period. The only downside: I haven't been able to get the Tetris theme tune out of my head since I stopped by.
8-Bit
Daily 1pm-2am. 49 Jiaodaokou Nandajie, Dongcheng District (159 1025 6538)
东城区交道口南大街49号
700m northeast of Nanluogu Xiang station (Line 6)
Also try: Beer Mania, The Local
A version of this article appears in the January 2014 issue of the Beijinger.
Photos: Mitchell Pe Masilun