It took several attempts before I worked up the courage to settle down in The Other Place, a bar-cafe off of Beiluoguxiang that caught the Gulou crowd's attention last spring when it was redesigned by electronic music aficionados Wu Fei and Markus M. Schneider. Outside, its expansive bay window draws attention with its display of vintage radios and portable televisions in faded reds and blues. The interior is a soothing palate of forest green, teal, and burgundy, spotted with chairs upholstered with the same taupe stripes that graced your hipster dad's legs circa 1970s. It's been dubbed "lovely," "homey," and "nice and warm," yet no matter how gorgeous are its plants catching some rays or how ironically-tacky-so-that's-why-it's-hip it is to have a shabby indoor couch in the courtyard, it's hard to shake the feeling that The Other Place is someone else's home.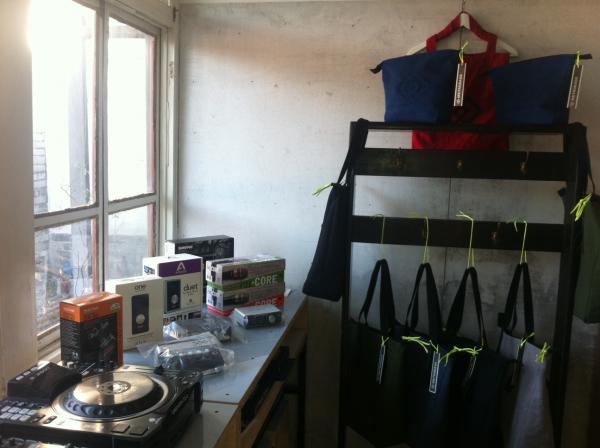 One of the cafe's pint-sized front rooms, newly dubbed The Other Shop, hooked me in the end. Perhaps this was partly because of my fascination with Beijing's foray into the cafe-shop combo concept, which has been executed in ways which radiate overzealousness and a poor understanding of clientele. This is just the opposite.
For a hub intended for the movers and shakers of Beijing's electronic scene, The Other Shop's selection of DJ and production equipment, which includes gadgets like headphones, microphones, midi controllers and speakers, keyboards, mixers, and synthesizers, really, and quite obviously, makes sense. Nicely incorporated are Schneider's own label, locally produced Metrobags, which are boxy, sturdy totes in decidedly masculine colors ideal for carrying home the gear. What's more, all of it is offered at price points that mean budding DJs don't have to lug their overseas-bought controllers on a plane, which, in turn, means more room in the luggage for dope trucker hats, second-hand high tops, and clever t-shirts. Word.
All of it is so minimalistic and niche that The Other Place can, at least at first, be better described as more unnerving than cozy. What's foremost appealing is they seem to get it. If you need more proof, check out their mission statement: "We aim to offer products that make sense & happy – pure consumption sucks."
They just wrapped up their soft opening, but they hope to have the finishing touches on the shop by the end of the month. Until then, call ahead to make an appointment – business hours will be set for 4-8pm daily after their official opening, but The Other Place bartenders may let you take a look if you're there for a drink.
The Other Shop
1 Langjia Hutong, corner of Beiluogu Xiang, Dongcheng District (6401 3269)
东城区郎家胡同1号 (北锣鼓巷)
Email: [email protected]
Instagram: @jrapppp
More stories by this author here
Photos: Jessica Rapp