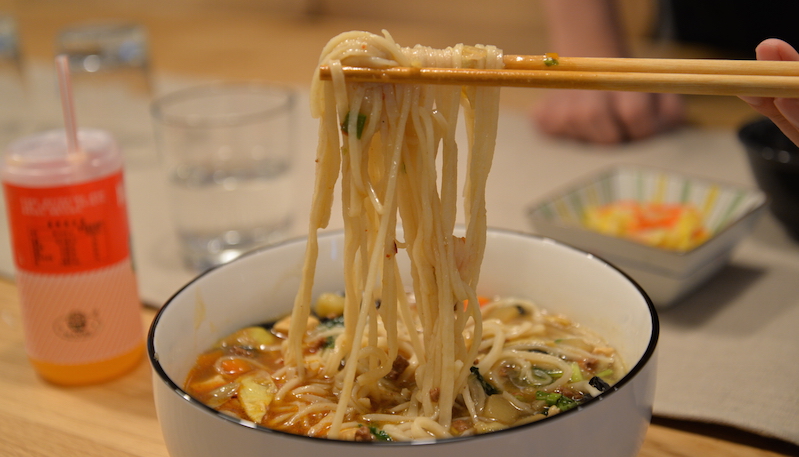 Of all the culinary riches that China has to offer, few are as straightforwardly satisfying as a bowl of steaming, wholesome Lanzhou noodles. And while numerous Beijing hole-in-the-wall joints purport to hawk authentic servings of the Gansu capital's claim to fame, a new Cheniandian Hutong restaurant is billing itself as the only real deal in Beijing when it comes to Lanzhou fare.
Dubbed Bun and Noodle, the newly opened, humble little Lanzhou eatery's authenticity comes courtesy of owner Claire Hao, a Lanzhou native who recruited one of her mother's dearest friends to ready her hometown's time-honored recipes here in Beijing. Hao co-owns the joint with husband Edison Liu, who hails from Liaoning, and who encouraged her to open a restaurant after many visits back home to see her parents, during which he was immediately taken by the seemingly simple and delicious local noodles and Ionged to present them to a wider audience in Beijing.
Highlights include the saozi mian (vegetable and pork noodles). The generous bowlful brims with flavorful broth made from a whole chicken and pork thigh bones steamed for hours. The fine morsels of pork, along with cubed carrots and other veggies, ooze with juices thanks to the broth, and the noodles are satisfyingly chewy and stringy, a refreshing change to the comparatively glutinous, bouncy noodles found at any number of other hutong noodle spots. Aside from those ingredients, the bowl is also filled with tofu, potato morsels, and yet another exotic specialty: huang hu cai, a specialty Lanzhou vegetable that is dried in the sun.
At RMB 26, the saozi mian's price is a tad higher that of any nondescript Beijing mom-and-pop shop's noodles, though the imported ingredients by way of Lanzhou and the authentic recipe from Zhao's extended family make the additional expenditure more than worth it.
Other standouts include the wuhua rou, layered and fatty sliced pork steamed in fermented tofu. It's fairly filling thanks to its firm and sturdy texture, and priced at RMB 20, a steal for a great accompanying side to a hearty bowl of noodles.
Better still: order the fatty pork with a side of hua juan steamed buns, which true to their name, feature layers that are twisted into petal-esque shapes, giving them the appearance of doughy, steamed flowers. 




Meanwhile, a 16 kuai bowl of niunai jidan laozao milk porridge, featuring fermented rice, scrambled egg morsels, raisins, and sesame, makes for a light and slightly sweet finish. And yet, an even heavier dessert option comes courtesy of the rice cake, a sticky and firmly packed patty flecked with plump dates and coated with honey. Hao is also excited to be selling Lanzhou treats like huluobo guowei yinliao, essentially a carrot flavored Kool-Aid that she and other friends grew up with.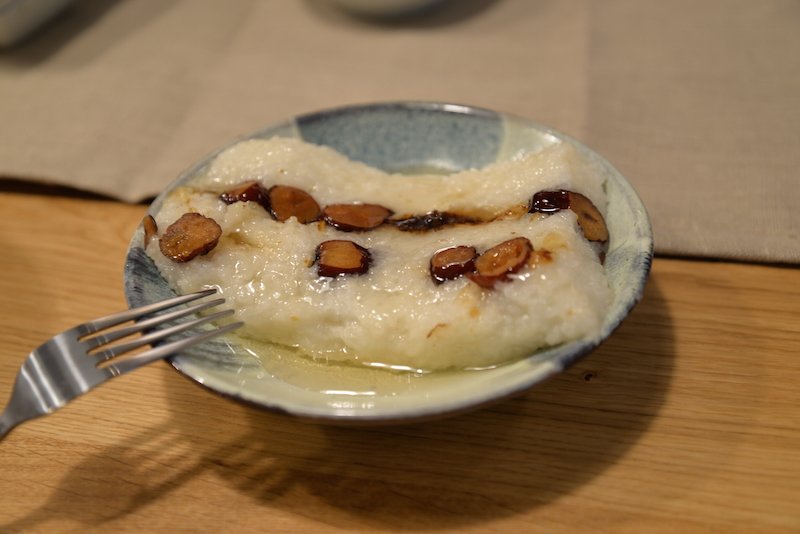 Overall, Bun and Noole's rustic presentation and unfussy wholesomeness reminded us of the bowlfuls of Qinghai cuisine served at Gewa, another recently opened downhome eatery. Hao and Liu's proficient English and outright passion for Lanzhou's delights will likely make the restaurant a hit with hutong dwelling foreigners hankering for a distinctive choice. And any Lanzhou hailing Beijingers will also undoubtedly be glad to pop by and stave off their homesickness with these nourishing eats.
Bun and Noodle
Tue-Sun 11.30am-2.30pm (lunch), 5pm-9pm (dinner). 8 Cheniandian Hutong, Dongcheng District
东城区车辇店胡同8号
More stories by this author here.
Email: [email protected]
Twitter: @MulKyle
WeChat: 13263495040
Photos: Kyle Mullin

Visit the original source and full text: the Beijinger Blog