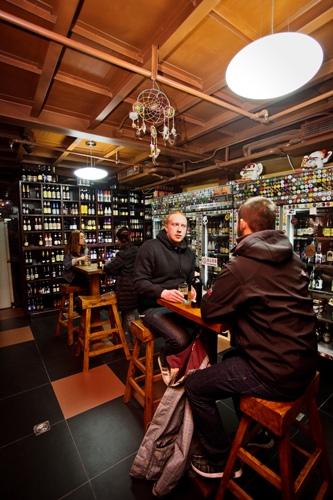 The new venture of Ryan O'Neal Johnston formerly of The Brick in Shuangjing and then The Drive-Thru, picks up where the aforementioned beer shop left off. A spot for him to indulge his twin passions of beer and biking, the China View venue already hosts Beijing Brewing Society meetings and is likely to interest other gatherings with some of the trappings planned or already installed. With a projector screen, and a touch screen jukebox en route to add to the table football set up on the spacious second floor, and the cycling regalia on sale, the sizable space makes an attractive proposition for a varied cast of patrons.
An eclectic beer collection (RMB 30-1,600) will certainly do its bit, and his previous experience of dealing in drink at The Drive-Thru has left him with an encyclopedic knowledge of his subject. Luckily, he doesn't mind discussing the nuances of the varietals he stocks.
Carrying two draft lagers, Kriek and Schofferhofer Hefeweizen (RMB 40 and presently subject to a buy-one-get-one-free offer), with space for a third option, he says the plan is to regularly rotate the draft drops while continuing to stockpile his arsenal of over 150 bottled brews, some of which you won't find elsewhere in the city.
Trouble Bar
Daily 2pm-late. China View, 2-101 Gongti Donglu, Chaoyang District (8590 0390)
朝阳区工体东路中国红街2-101号楼
1km west of Tuanjiehu station (Line 10)
Also try: Heaven Supermarket, El Nido
Read this and other bar reviews in the February issue of the Beijinger magazine: