There's only so much envy you can bear against Aussies; while they bask in the summer heat, you freeze over here in Beijing. And it's not just the weather; the land Down Under is also responsible for gracing us with Mad Max, Australian rules football, and men so preoccupied at work they would rather exclaim "Who can it be now?" With such great accolades, it goes to show: if you can't beat 'em, join 'em!
Want to celebrate Australia Day but can't remember the last time you tasted a genuine Aussie meat pie? Fubar is here to solve your problems.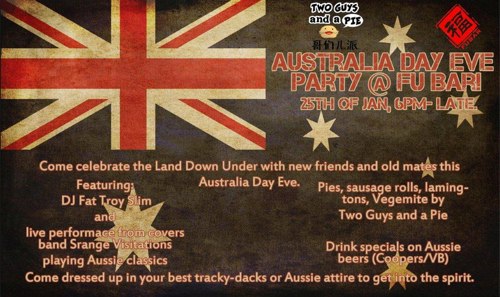 This Saturday night on January 25, Fubar is hosting a one-of-a-kind Australia Day Eve party. Expect the full Aussie trimmings like Victoria Bitter, Coopers, meat pies, sausage rolls, Vegemite rolls and lamingtons. Get raging drunk, let your inner bogan out, and rave to classic Aussie party music by Fat Troy Slim and live music by Strange Visitations.
Break out your best Ugg boots and tracky-dacks to really get the party going. The best part? Entry is completely free.
See you there, mate!
Click here to view full event details.
Photos: bbc.co.uk, screenshot