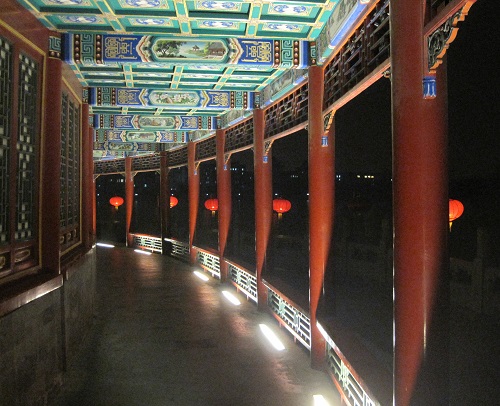 Beijing's high-end "private dining" establishments in the city's public parks have been ordered to shut down or reform their pricing to appeal to the masses, according to reports in Chinese media.
Twenty-four establishments located within the confines of public parks such as Beihai, Tiantan and Honglingjin have been targeted in the crackdown which was initiated earlier this month as a byproduct of President Xi Jingping's call to eliminate ostentatiousness on the part of officials.
To date, two restaurants have been closed while 22 others have pledged to make their offerings more appealing to all classes — changes that include removing all minimum charges and private room charges, as well as adding more affordable dishes in the RMB 20 to RMB 30 price range and increasing the number of four-person tables in their dining rooms.
Private restaurants in public parks straddle a gray area in Beijing. The city's parks are bastions of public good for the masses, but over time many corners of parkland have been given over to commercial enterprises. One of the more popular forms of commerce is exclusive high-end restaurants, mostly catering to private parties and charging premium prices — a natural attraction for indulgent officials.
Asked by the Beijing News about what exactly constitutes a private dining restaurant that would be subject to regulation, officials from the city parks bureau were suitably vague with their explanation; they state that violators are typically membership-based establishments, have high-end decorations, and have average per-head costs of over RMB 300.
Some of the restaurants likely affected by the crackdown are popular eateries J&E Mansion located in Honglingjin Park and Yu Shan in Tiantan Park. These establishments have been told to shut their doors or change their price structures to make their services more accessible to all sectors of the public. Some restaurants have done just that to remain open for business.
One park restaurant that won't be affected is Beihai Park's Fangshan Restaurant, a popular destination for tourists located within 200-year-old Qing-era architecture. Officials note that the establishment's 80-year-old history and its use in the 60s and 70s as the preferred spot for state banquets for foreign dignitaries gives it significant historical value worth preserving. And, the official added, it does have some moderately priced dishes on its menu (users on popular Chinese dining site Dianping.com give it an average per-person price of RMB 203).
When questioned by the Beijing News, city park officials said that parks are permitted to rent out structures to private businesses in order to supplement park income, which is "plagued by inadequate funding." In concept the idea is honorable in that Robin Hood sort of way — it's nice to think that the money parks earn from renting spots out to high-end eateries could offest the costs of park upkeep and perhaps defer entrance charges for underprivileged classes. However at some stage we hit a tipping point: If the parks that are designed to serve the people become cluttered with facilities that only cater to the rich, then it's gone too far.