Let's just jump right into the good stuff: Katy Perry was in town last weekend to perform at the Infitini Brand Festival and made it around to a few of Beijing's local boutiques with AnyShopStyle.com's Creative Director Alice McInerney. Maybe this is only good news to you if you happened to be in the Doujiao Hutong area, where there was the chance you could have run into her at the S.T.A.R.S. concept shop.
My colleagues and friends are slowly trickling back to Beijing from the U.S., and if they're anything like me, they'll have lugged back pounds of clothes. And if they're anything like me, they'll have realized that their petite apartment wardrobes can't accommodate what two giant pieces of oversized luggage can – and that means sacrifices will need to be made. This is where Home Plate Bar-B-Que comes in.
The pulled pork geniuses over at Home Plate Sanlitun are hosting a clothing drive for Huiling, a charity that helps those with disabilities make a living teaching art. Through Jan 30, bring over any gently used or new clothing items you don't plan on wearing anymore. While you're there, might as well celebrate taking a load off for a good cause with a pint of their new brew or a Le Fizz Criole – one of my faves off their new cocktail menu. Why? It tastes like liquefied black licorice jelly beans. Dangerously good.
Qianmen saw the grand opening of a second branch of the Emperor Beijing hotel last Friday, which kicked off with a fashion show from Paris-based designer Laurence Xu. His gowns are the definition of extravagance and are heavily influenced by Chinese culture. Each one is fitted with gorgeous embellishments as seen by the use of embroidery, sequins and feathers that certainly set the bar high for the five-star establishment. If this is what the dresses look like, we can't wait to see the rooms.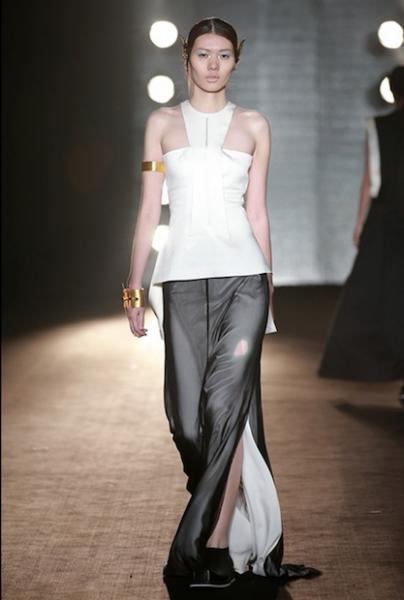 Jing Daily recently speculated which Chinese designers to watch in 2014, and one of Beijing's own, Simon Gao, made it on the list. You can find his China-only collection at Galeries Lafayette. Find the full list here, and let us know below who else you think deserves a mention.
Photos: Michel on WeChat, Jessica Rapp, Jing Daily