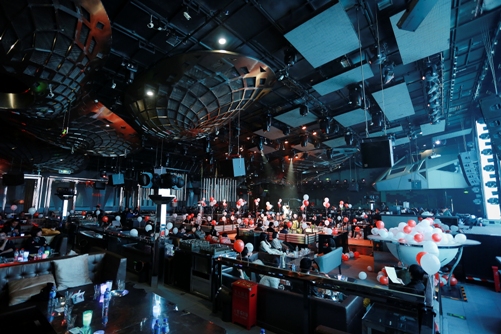 LIV has settled nicely into its role as the new kid on the Gongti block. The area is ruled by the big hitters of Beijing's mainstream Chinese clubs, but this new kid is no sissy. More than any of its peers, LIV has reached a level of gaudy pomp and circumstance that aligns flush with a Gongti-goer's expectations of what a nightclub that side of the Worker's Stadium should be.
If the cherry-red grand piano playing at the foot of a marble spiral staircase doesn't give the game away, then the hallways covered wall-to-wall in gold-framed mirrors should make it obvious that this club is tailor-made for conspicuous money flexing. A place to see and be seen. Standing bottle service, towers of sculpted fruit, and Russian acrobatic shows each provide ample encouragement for clientele to flash the cash.
My party and I were surprised then by free admission and a reasonably-priced drinks menu (although it will be interesting to see if either stay that way). A Zombie (RMB 65) erred on the sweet side, but the Cucumber Gemelt (RMB 65) made for better company.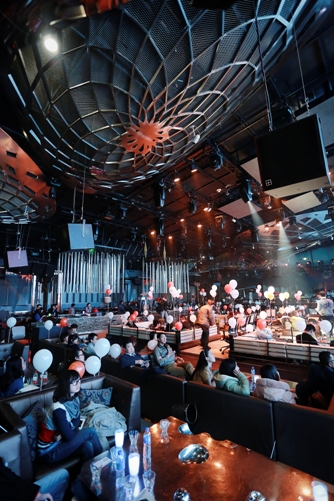 The DJ mixed familiar pop tunes with electro house from her towering pedestal above the bar, but could not get elbows off tables. With no dance floor, that's a difficult task.
LIV has set a new benchmark for palatial decadence in Gongti, and it attracts an elite crowd. The new kid clearly has its eyes on the throne.
LIV
Daily 9pm-late. 6 Gongti Xi Lu, Chaoyang District (6408 9898)
朝阳区工体西路6号
1.2km east of Dongsishitiao station (Line 2)
Also try: Latte, Elements Club
A version of this article appears in the January 2014 issue of the Beijinger.
Photos: Ken