When anyone mentions "French cuisine," what immediately springs to mind? Pricey dishes with complex recipes? White linen tablecloths and strict dress codes? Elegant chefs sporting tall white hats?
Such preconceived notions will quickly be dispelled after a visit to Ernest's French Bistro. Situated in Shunyi's Pinnacle Plaza, the month-old restaurant serves up a range of intricate dishes, while also (thankfully) forgoing any stereotypical stuffiness, in favor of an breezy bistro vibe.
Ernest Yan, the titular chef and owner, hails from Beijing but developed his culinary chops in Montreal, and prides himself on making dishes that are ornate yet accessible, blurring the lines between high-grade and home-style. Those contrasting elements are most apparent in the beef tartare (RMB 98), made with tenderloin that Yan purchases himself fresh daily. Patrons can watch him hand chop that meat himself from the open kitchen's window, and he says that bit of manual labor is crucial to the dish's success. "Too many restaurant's mince their tartare, which makes it way too mushy," Yan told me during a recent visit, adding with a smirk: "You don't want that. I mean c'mon, would you enjoy being served drinkable meat?"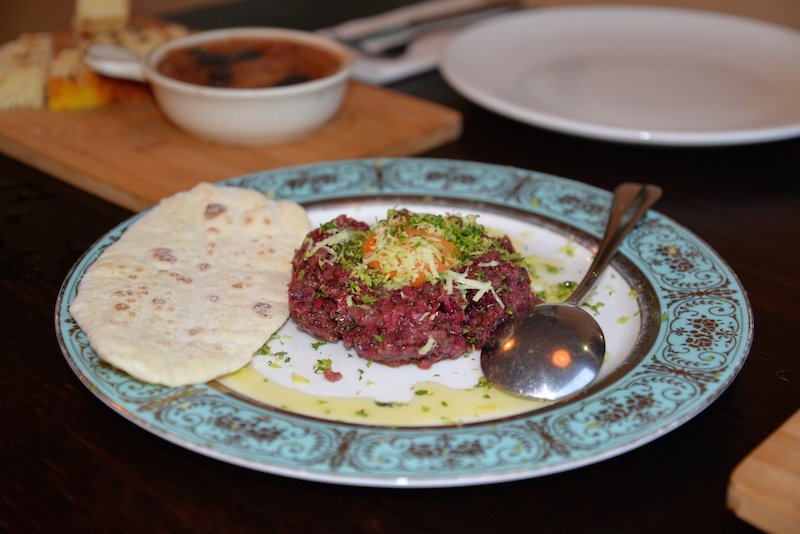 I couldn't disagree with him, as I tucked in and savored the dish's varied texture, made possible by Yan's hand-chopped tender meat, peppers, and onions. Yan had an equally enthusiastic explanation for his pork coquette (RMB 198, pictured at top). The dish is, in essence, an upmarket meatball, consisting of pork that Yan deboned himself, before dousing it in salt and using a thin film of fat that perfectly encases and retains the flavor of the meat once fried. This traditional French method, which any foodie worth their salt knows as confit, is by no means a mainstay in Beijing's food and beverage scene, especially in sleepy Shunyi, making this dish an all-the-more enticing treat for Ernest's patrons.
An equally impressive highlight is the foie gras parfait (RMB 98). Normally I avoid pâté at all costs, because the very thought of it makes my stomach turn (I know, a cardinal sin for any food writer). Still, my curiosity got the better of me in this instance and it would be an understatement to say I was pleasantly surprised. Part entrée, part dessert, this indulgent dish's lower layer is made entirely of creamy foie gras, but it is topped with flakes of black truffle and a coating of subtly tart rose jelly. Those contrasting ingredients balanced each other out and gave the dish a sumptuous richness. Anyone who enjoys foie gras under normal circumstances will all the more taken by this parfait.
The prices are high, so Ernest's will likely be a special occasion destination for most foodies in the vicinity. Yet the quality of ingredients, the creative combinations with which they are served, and the otherwise slim pickings in Shunyi are all sure to make this bistro a big hit.
Ernest's French Bistro
Tue-Thu 11am-8.30pm; Fri-Sat 11am-11.30pm. Pinnacle Plaza, Shunyi (8042 2106)
艾尔尼法式小馆: 顺义荣祥广场(馨园一街2号院,3幢03)
More stories by this author here.
Email: [email protected]
Twitter: @MulKyle
WeChat: 13263495040
Photos: Kyle Mullin

Visit the original source and full text: the Beijinger Blog