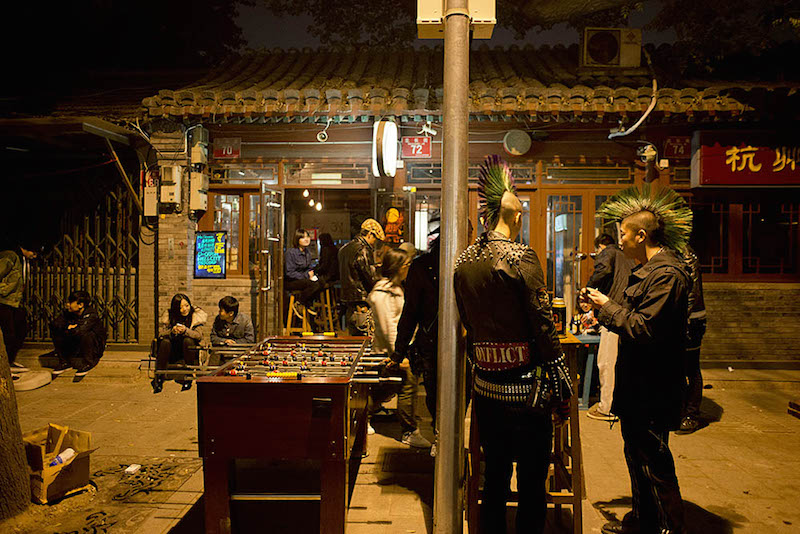 Like the lyrics of a tragic rock ballad, Beijing's music scene continues to leave us misty-eyed. The latest heart breaking turn in that narrative comes courtesy of Old What? Bar which – like Mao Livehouse a few months back, and a slew of other longstanding music venues in recent years – appears to have shut its doors.
Word about the closure began spreading on the afternoon of Thursday (Aug 4) when Brad Seippel – an American musician who has made a name for himself as a solo performer in Beijing under the stage name thruoutin – posted on Facebook about getting "some abrupt and shocking news yesterday which has kind of bummed me out. The Beijing underground music institution, Old What? Bar, is now closed." He went on to lament the lack of fanfare following its quiet shuttering (a point that many fans would likely echo, given Mao Livehouse's far more lengthy string of farewell gigs), before describing how he played his first ever gig there, and how his "former bands Yantiao and Mammals (Social Boar) would always select Old What? Bar as our first place to play in order to test out the waters before booking any other shows."
Venue owner Gaobo could not be reached for comment before publication, but it's unsurprising to see Old What? Bar shut down, given the rising rents that have lead other venues to a similar fate as of late, not to mention the bar's proximity to one of the most sensitive parts of town, just north of the Forbidden City's west gate. Regardless, Seippel tells the Beijinger that the closure is "a real shame. I think it'll be missed mainly because it was such a laid back place. You could see something different each time and were given freedom to pretty much play whatever you wanted as an artist. There was a sense of community with people who often hung out there and it was just an overall unique venue. It by far wasn't the nicest looking place or well known for it's amazing sound system, but the owner, Gaobo, and the previous owner before that, Qingjie, just made the place feel like home. It's difficult to get that feeling at larger live houses."
Music scribe Will Griffith, who heads up the Live Beijing Music blog and weekend gig guide, echoed Seippel's sentiment about Old What?'s friendliness to up-and-coming acts and newbie audiences alike. He says it was: "A place for a band to cut their teeth whilst keeping it intimate. A place where you were forced to interact with the folks around you and, by proxy, the music."
Griffith says that openess and accessibility is a rarity, and one that young bands don't take for granted. While he cites venues like Temple and School Bar as doing their dilligence by welcoming newbies onstage on weekdays, he says: "Old What? felt like a hidden place, and it felt like a place where you could go out on a limb and not worry about the reception."
Michael Cupoli, a musician who performs under the alias Noise Arcade, also has fond memories of Old What? being "the first the first rock venue I went to when I first to Beijing in 2004." He adds: "It definitely has a place in the history of Beijing's underground music scene."
Other artists were quick to mourn the loss of yet another beloved local livehouse. Bian Bian, singer for veteran local alt-rock troop Candy Monster, tells the Beijinger that the venue was "a very fun bar" that championed Beijing's punk acts. Meanwhile, Guoji Yixin, a solo artist and the bassist of the post-rock band She Never Sings Our Songs (SNSOS), says Old What? was known for its "relaxed and original atmosphere," which made its shows feel "like big joyful parties." He also loved how "you could always find excellent fresh bands and musicians of many different styles there. That's why I think it was special. The closure of Old What? will break many people's hearts."
Photo: Johnlake.co.nz

Visit the original source and full text: the Beijinger Blog