No. 9 Beer opened on June 18 at, obviously, 9 Dongzhimen Neidajie. At first glance, the 1,000 square meters venue reminds us of Legend Beer, albeit with less outdoor space.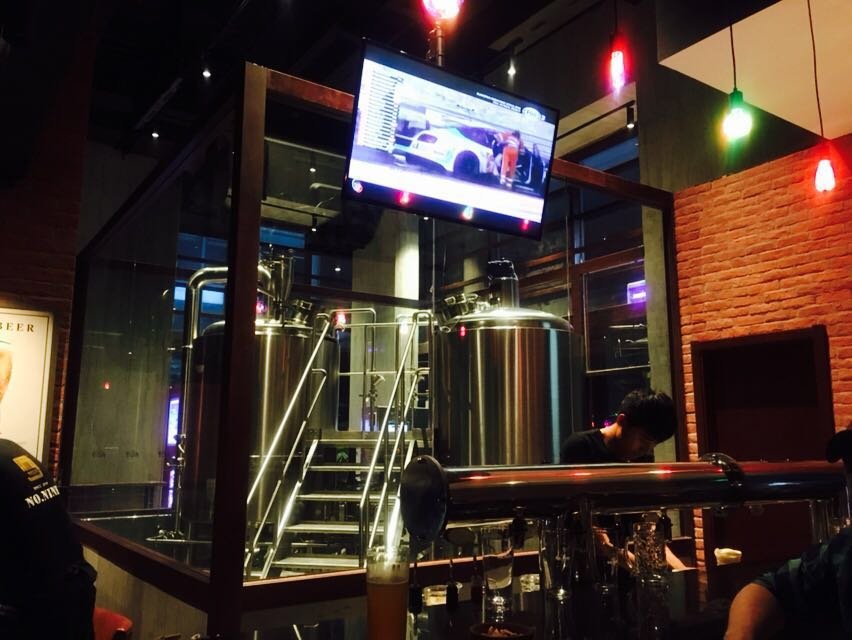 No. 9 Beer aims to be a brewery, and a sports-themed restaurant with several TVs and projectors hanging in every room. They brew the beer on site, and it's hard not to notice the two 500-liter tanks at the door. There are two floors for customers, and B1 is where they brew their beer.
There are six beers on tap: No. 9 dark beer, No. 9 red beer, No. 9 lager, No. 9 wheat beer, No. 9 light beer and No. 9 IPA, priced between RMB 35-48 for 500ml. They also have "No. 9 special mix beer" and "No. 9 nice non-alcohol beverage" (RMB 30). As you can see, they try to be very imaginative with their names.
We ordered a taste set with five different samplers (RMB 30). If you are used to hoppy, innovative, punch-in-the-face American beers, you might feel like these No. 9 offering are a bit watered down. The German-style beers here are lighter and with less carbonation. The light beer was a bit sour, and the "Imperial Pale Ale" had more carbonation, but barely a hint of hops. Dark beer was the one that everyone ordered. The non-alcoholic beer was extremely sweet, at the same level as Tropicana's orange juice, and it contained a strong aroma of vanilla. To be honest, it was the first time that I couldn't finish a small cup.
The menu of Dongzhimen's latest addition reads "beer is the answer...but I can't remember the question..." Well, we don't need to know the question, because we already love the answer, as long as it's not non-alcoholic beer.
No. 9 Beer also offers food at a reasonable price, such as fries, fried fish (RMB 25), spring rolls (RMB 22), salads (RMB 29-59), a roasted meat platter (RMB 118), pork ribs and a sausage platter (RMB 99), beef chicken and pork, three pastas (RMB 40-50), seven pizzas, and two sandwiches.
We ordered the meat salad (RMB 39), which contained chicken, beef, duck, bacon, and mixed vegetables. The vinaigerette dressing was red, which was a little disconcerting, potentially made using chili oil instead of olive oil. The pepperoni pizza was average, but the sausage platter, which had beef, chicken, and pork, was pretty tasty.
The atmosphere was nice, and someone even proposed here while we were visiting. The proposal started with an awkward flashmob, and several people holding a sign reading "one true love," followed by a speech. Finally the woman said "Yes!" and took the roses from her husband-to-be. What a happy ending.
Until July 18, they are giving out 199 pints of amber beer from 7pm every day.
No. 9 Beer
Daily 3pm -2am, 9 Dongzhimennei Dajie, Dongcheng District (6401 9799)
酒号: 东城区东直门内大街9号
More stories by this author here.
Email: [email protected]
Twitter: @flyingfigure
Instagram: @flyingfigure
Photos: No.9 Beer, Tracy Wang

Visit the original source and full text: the Beijinger Blog