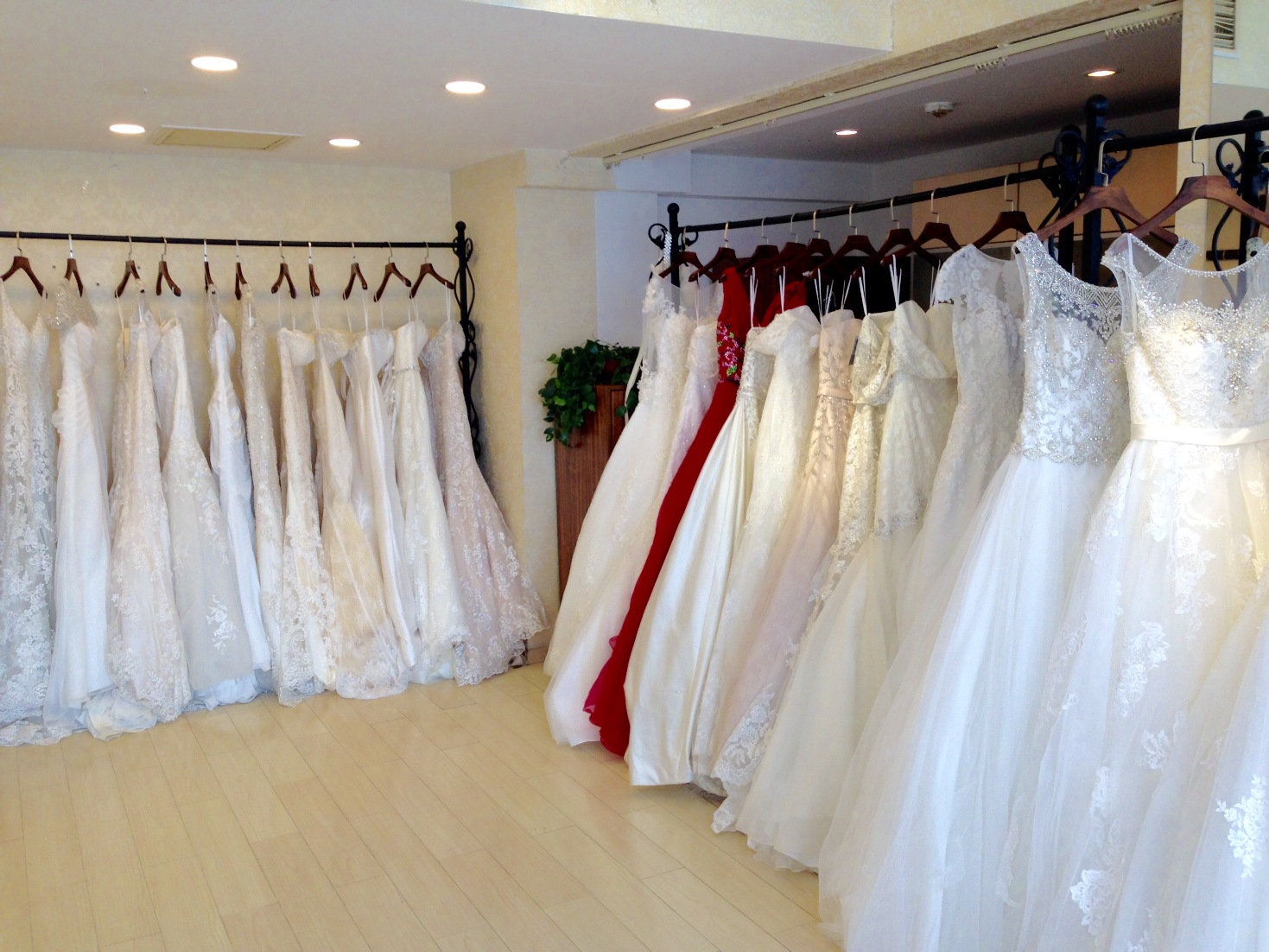 Just in time for summer weddings comes Linvina Bridal, a near wedding dress shop near U-Town shopping center that fits brides-to-be can for chic evening dresses, dazzling wedding gowns, and more. Linvinia can also handle dresses for a bridal party from bridesmaids' or flower girls' measurements.
The shop deftly balances affordability and quality, with all customized wedding gowns made of imported material like satin, chiffon, silk or French lace, pricing dresses between RMB 1,500 and RMB 8,000. The prices vary depending on the features; bigger wedding dresses with long trains, top-notch lace, and elaborate embroidery or heavy crystal beadings are usually priced at or near RMB 8,000, whereas plainer but equally as eye-catching satin bridal gowns typically fall in the lower price range.

Custom made cocktail and evening dresses are also on offer. Their prices range as low as RMB 300 for simple cuts, to as high as RMB 4,500 for the more luxurious designs.
Customers typically opt for ivory, champagne, or blush pink colored wedding dresses. Black and navy blue are the most popular evening dress colors, though any shade can be made. The Linvina team carefully handles each step, from the fitting (which is included in the price of the dress), to the design and the stitching. The entire process typically takes between 40 and 50 days to complete, so plan ahead.
Another feature that sets Linvina Bridal apart is its efforts to specialize in all sizes. Unlike most Beijing dress outlets, this Chaoyangmen shop does not limit itself to snug sizes, accommodating both the slimmest and curviest of customers.
The shop also offers off-the-rack rentals, making it a good choice for attendees of embassy balls, swanky parties, or high-end banquets, and a convenient option in a city that has few choices for formal wear rental.
Linvina Bridal started life as an online retailer before opening its brick-and-mortar store earlier this year. Satisfied patrons have not been shy to take to Linvina's Facebook page to express their gratitude, with Lana Eshinimaeva writing: "Absolutely fantastic! Thanks again for that magical dress, it could not have been better." Another customer, Krista Couey, writes an equally glowing review, describing how when she "started looking for bridal gowns ... the only ones I loved were way out of my budget. I discovered Linvina Bridal gowns, looked through pictures of their amazing dresses and decided to order a custom gown ... It is exactly what I wanted, and is something that I could not have gotten anywhere else!"
Now that Linvina Bridal's walk-in store is open, the company is putting a far greater focus on its local customers who want to stop by for a fitting. Indeed, getting hitched while living abroad just got much easier, thanks to this burgeoning bridal brand.

Linvina Bridal will offer a 20 percent discount on all its wedding dresses, and a 10 percent discount on all its evening dresses, from June 25-July 10. Scan the QR code or call the number below for more information.


Linvina Bridal
Tue-Sun, 10.30am-7.30pm. 1905, Kuntai International Apartments, Chaoyangmen Waidajie, Chaoyang District (185 1077 5296)
朝阳区朝阳门外大街乙12号昆泰国际公寓1905室
Photo courtesy of Linvina Bridal

Visit the original source and full text: the Beijinger Blog