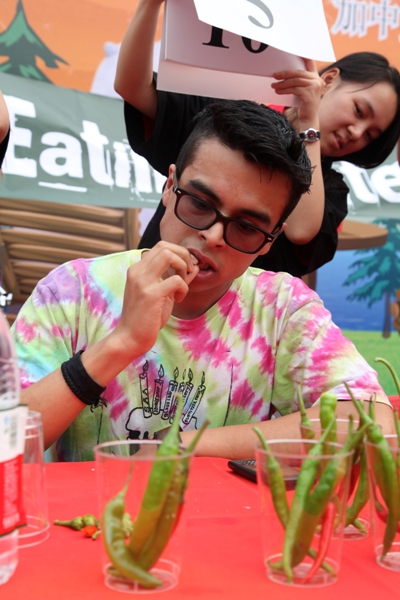 Sweat it out as we celebrate Canada Day, at the Canadian International School, with the annual Beijinger chili pepper eating contest on July 28. We are looking for 10 contestants willing to set their mouths ablaze. If you have what it takes to gobble down handfuls of hot chilies then make sure to shoot us an email here, before June 28 to register.
There will be prizes worth up to RMB 1,200 for first place, RMB 800 for second, and RMB 400 for third. All participants will get a food voucher valued at RMB 200 and free entry to the event. The Canada Day festivities begin at 3pm on July 28, and the Beijinger chili eating contest begins at 4.30pm. For ticket prices and booking information, email [email protected] or call (8526 1820).
Last year our chili-chomping contestants battled it out in the ultimate taste bud endurance test, and Daniel Mulroy took away the winning title by eating 51 peppers. This performance topped the 46 peppers that got him first place in 2012. Let's see who's up for the challenge of dismantling the current champion's impressive performance. 
See pics from our 2013 chili pepper eating contest here.
Photos: Lova

Visit the original source and full text: the Beijinger Blog