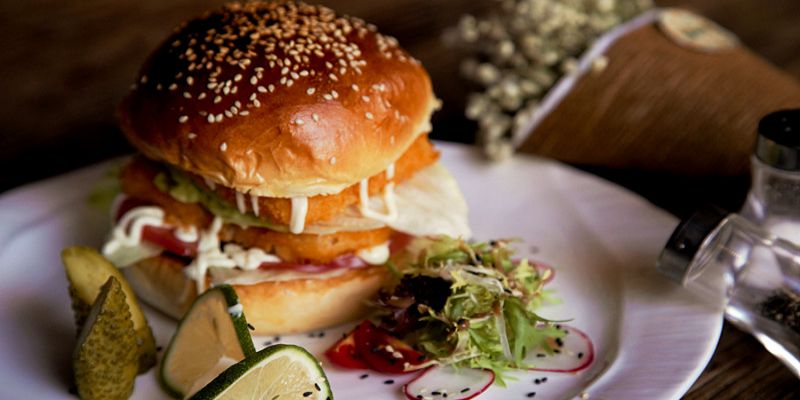 As part of the Beijinger's month-long Burger Cup (which kicked off May 16 with burger specials around town), we take a closer look at some of this year's participants. Today we're grilling Karen Qiu, the owner of Drunk Bar which is located in the busy Wangfujing area. They flipped burgers at our May 28 Burger Festival and put up a valiant fight in the early days of voting. But alas, they were defeated in an early round. Be sure to stop by soon to take advantage of their "Euro Cup 2016 Game Betting" promotion though, and don't forget to try their tasty fish burger. You can read about all that and more below.
Opened in the summer of 2015, Drunk Bar combines the café vibe of its first floor with the huge lounge of its second floor. At 1,000 square meters, It's a massive place. Many patrons just walk in during the afternoon to have a coffee and enjoy the cozy atmosphere of the first floor. But the venue is now working to shine a light on its Deep Sea Burger, so that customers will stick around, chow down for dinner, and enjoy a few beers in the lounge until late in the evening.
We had a talk with the owner, Karen Qiu, who has 10 years experience in the F&B scene. Aside from the burgers, people also love the venue's German-style pork knuckles, sausages and beers that are brewed on site. Currently, they have five varieties of suds on tap: the bestselling Zui Hefeweizen (5.5 percent ABV), Hammer & Hardie Session IPA, Drum Kiln American Stout, Winding Path IPA (all priced at RMB 48), and the Gallia Belgica Belgian Strong Dark Ale (RMB 58).
Tell us about your signature burger. What makes it the best burger in Beijing?
It's called the Drunk Deep Sea Burger (RMB 42). We choose the best imported cod in town. It's low temperature fried with breadcrumb covers, and served with Drunk's homemade buns, which have a totally different taste from other mass-produced buns. We serve it with mayonnaise, pickles, lime, and a small vegetable salad.
What drink from your menu goes best with the burger?
The Zui Hefeweizen. We brew in-house.
Do you have any promotions or discounts that you'd like to mention?
For the Euro Cup 2016 Game Betting: consume RMB 200 per table to get a betting card, then choose the game you want to bet and write down the winner. If the team you choose wins the game then congrats, there's free beer or cocktail waiting for you!
The Beijinger's 2016 Burger Cup is brought to you in cooperation with the following sponsors: Oasis Hospital, McCain Fries, Santa Fe Movers, Etonkids, Lonely Planet, Xian Cheng, and Asian Tigers.
Photos Courtesy of Drunk Bar

Visit the original source and full text: the Beijinger Blog