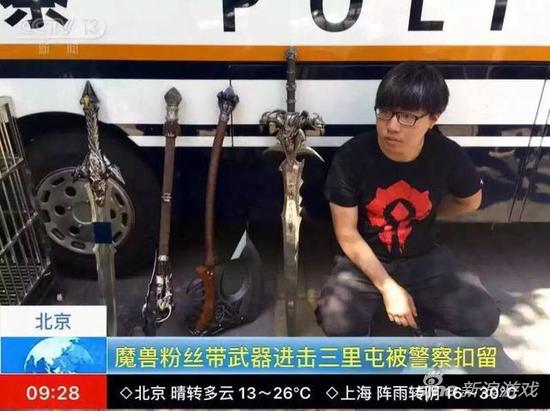 Actors Daniel Wu and Paula Patton joined director Duncan Jones in Tai Koo Li in Sanlitun Thursday to check out the Warcraft Experience exhibit as they continue to promote their film in what's expected to be its most crucial market.
The USD 160 million CG/live-action adaptation of Warcraft, Blizzard Entertainment's enormously popular video game, is set to hit scenes in China on Wednesday, June 8, and many are already predicting it could become the highest-grossing Hollywood film ever in China.
Internet presales of tickets for the movie has already surpassed RMB 22 million according to TechWeb.com.cn.
With a week still to go, that puts the film in a good position to challenge Furious 7, which currently holds the all-time presales record for a Hollywood movie with more than USD 8 million.
While the film is getting not-so-great reviews overseas – summed up by games website Kotaku's blunt headline "The Warcraft Movie Is Not Good" – that hasn't blunted the high level of anticipation in China where the game is hugely popular.
Hong Kong-based Chinese-American Wu posted a bunch of photos of himself, Patton and Jones at the exhibition on his Instagram account Thursday, encouraging his Beijing-based fans to check it out.
"Here you can see props and costumes from both the Alliance and the Horde plus special in depth short films about the making of the film," he posted.
So you may as well have a gander the next time you're in SLT. There's a massive Warcraft hammer outside Uniqlo right now. You can get one of those photos that makes it look like you're totally holding it. Just don't don't bring any weapons of your own.
A young man was taken in by Sanlitun police for questioning after bringing some scary looking Warcraft-like weapons to Tai Koo Li (see top photo), according to Sina Sports. He was released after receiving a stern warning, not surprising given last year's stabbing only a stone's throw away.
Before hitting up SLT earlier Thursday, the actors and their director have been attended a media pre-screening and had a Q&A session with a crowded room full of film students.
Patton, who plays the half-human, half-Orc Garona in the action fantasy posted a couple of video messages of her working out at a Beijing hotel gym on Facebook Wednesday.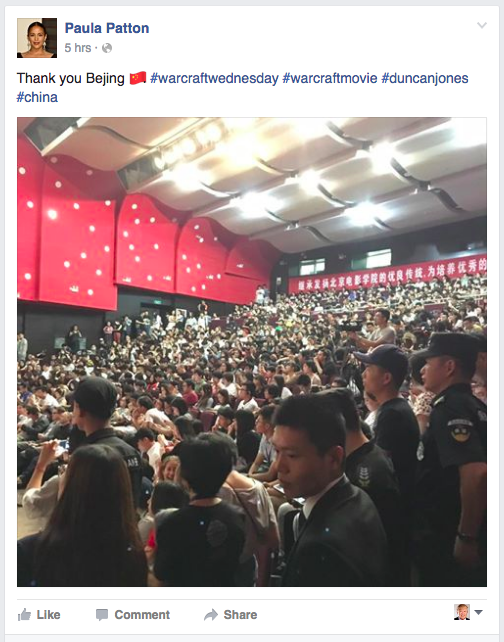 After her workout, Patton joined Wu at the Beijing Film Academy for a Q&A session to what looks like was a packed out audience.
"Just finished our Q&A at the prestigious Beijing Film Academy. It was awesome to share our experiences with all those students. They are the future of Chinese film. Jia You!" Wu posted on Instagram.
Director Jones, who has previously directed the compelling sci-fi films Moon and Source Code, also happens the son of recently deceased rock 'n' roll legend David Bowie.
Jones told The Daily Beast his father was able to watch an early version of the film Warcraft before his death in January.
The Warcraft Experience exhibition will run until June 20, according to the Tai Koo Li website. It will be released in 2D, 3D, 3D IMAX, and the China Film Giant Screen formats June 8, ahead of China's three-day holiday weekend.

Visit the original source and full text: the Beijinger Blog