Coffee and choreography are converging at Waiting for Godot. The newly opened café and performance art space is housed on the second floor of Nine Theatre (9个剧场). Godot owner Xue "Tutti" Deng danced with the National Ballet of China at Tianqiao Theatre for four years before leaving that esteemed institution to open this far more intimate, innovative new venue.
"I've been to modern dance shows in the Netherlands. They'll serve wine or coffee, and make it very comfortable," says Tutti, adding that that informal vibe left a strong impression on her. "In China, a lot of dance performances are very serious. You can't drink during the show or really relax." 
With Waiting for Godot, Tutti hopes to offer a stark alternative to such stuffy venues. It is a loft-ish cafe with cushy, laid-back chairs, wooden floors, and sprawling book shelves. That decor is punctuated by quirky, avant-garde touches like restored motorcycles, an ivory piano (for performers to serenade guests), and a pharmacy's aged TCM cabinet, now stuffed full of bright flowers. Tutti worked on the venue's offbeat motif with Nine Theater manager Wei Xu, an avid collector who roams Beijing in search of discarded antiques.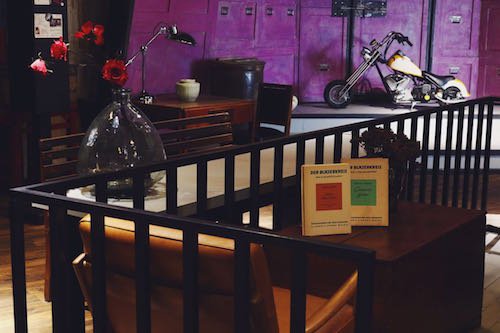 Tutti seems well suited for such an offbeat setting, with her cropped hair, elegantly tattooed forearms, slight-yet-toned dancer's figure, and gleaming smile. She's an enchanting, artsy pixie who plans to host a range of performances at Godot every weekend, put on by wildly kinetic modern dancers, pianists playing classical and jazz standards, and more. All of that will occur mere inches from where patrons sit sipping lattes and wine. Most of the venue's beverages are priced at around RMB 30 per glass.
Aside from providing a cozy, intimate space for customers to enjoy such performances, Tutti is equally excited about what Waiting for Godot – and Nine Theatre's adjacent, more official stage – can offer Beijing's dancers. "My friends have done some amazing impromptu performances on the street, but we've never had a place of our own. I want to give that to them. This should not only be a place to enjoy performances, but also a dream stage for dancers."
Waiting for Godot is hosting two modern dance performances this weekend, one on May 14 at 7.30pm, the other on May 15 at 3pm. Scan the venue's QR codes below to find out more.
Photos: Xue "Tutti" Deng

Visit the original source and full text: the Beijinger Blog