Afternoon tea, allegedly started off during the 19th century when the seventh Duchess of Bedford was said to have complained of "having that sinking feeling" during the late afternoon, when two meals (breakfast and dinner) were the customary way to go. 
She would be brought little sandwiches and tea to combat this feeling. It supposedly wasn't long before anyone of notable social standing in British society was sipping tea and nibbling on cucumber sandwiches in the middle of the afternoon.
Although most of us have now changed our quotidian eating habits to include lunch, afternoon tea is booming. This British tradition has become increasingly popular around the world, and is a wonderful treat. 
Of course afternoon tea in our fair city isn't just cucumber sandwiches, which each afternoon tea trying to be more elaborate than the other. To help you navigate the world of afternoon tea, we've gathered the most popular ones in town.
Palace Classic Afternoon Tea at Aman Summer Palace (pictured at the top)
While further out than other options, the Palace Classic Afternoon Tea set at the Aman Summer Palace is set in the peaceful surroundings of the back gardens, and the trip is more than worth the peace and quiet. Treats include a selection of nine cakes and sweets and four savory finger sandwiches, including freshly baked raisin scones with whipped cream and jam. Upgrade to Imperial Afternoon Tea to add a glass of Brut Champagne or a Champagne cocktail. 2-5pm, RMB 358 (Imperial Afternoon Tea), RMB 268 (Palace Classic Afternoon Tea). Aman Summer Palace
Godiva Afternoon Tea at Conrad Beijing
The Conrad Beijing has an afternoon tea at their atmospheric Lobby Lounge focusing purely on Godiva. From the chocolate rum truffle cake to the irresistible black chocolate mousse, this afternoon tea is for those who want to feel what it's like to be Belgian royalty for a few hours. Treats come with a cup of either tea or coffee. 1.30-5pm, RMB 228 (plus 15 percent service charge). Lobby Lounge, Conrad Beijing
Summit Afternoon Tea at China World Summit Wing
The China World Summit Wing has two options for afternoon tea, one is the Summit Afternoon Tea, which includes Chinese tea, and another is the Wing Afternoon Tea which has premium Chinese tea instead. There's a menu of savories to choose from, but more excitingly, there is a 5-meter long pastry display to choose your desserts from! Guests can opt to add RMB 100 to add another sandwich and one more cake from the afternoon tea menu, as well as an extra hot beverage, perfect for those sharing between two. 2-6pm. RMB 238 (Wing Afternoon Tea), RMB 198 (Chinese Tea). The Lounge and Atmosphere, China World Summit Wing, Beijing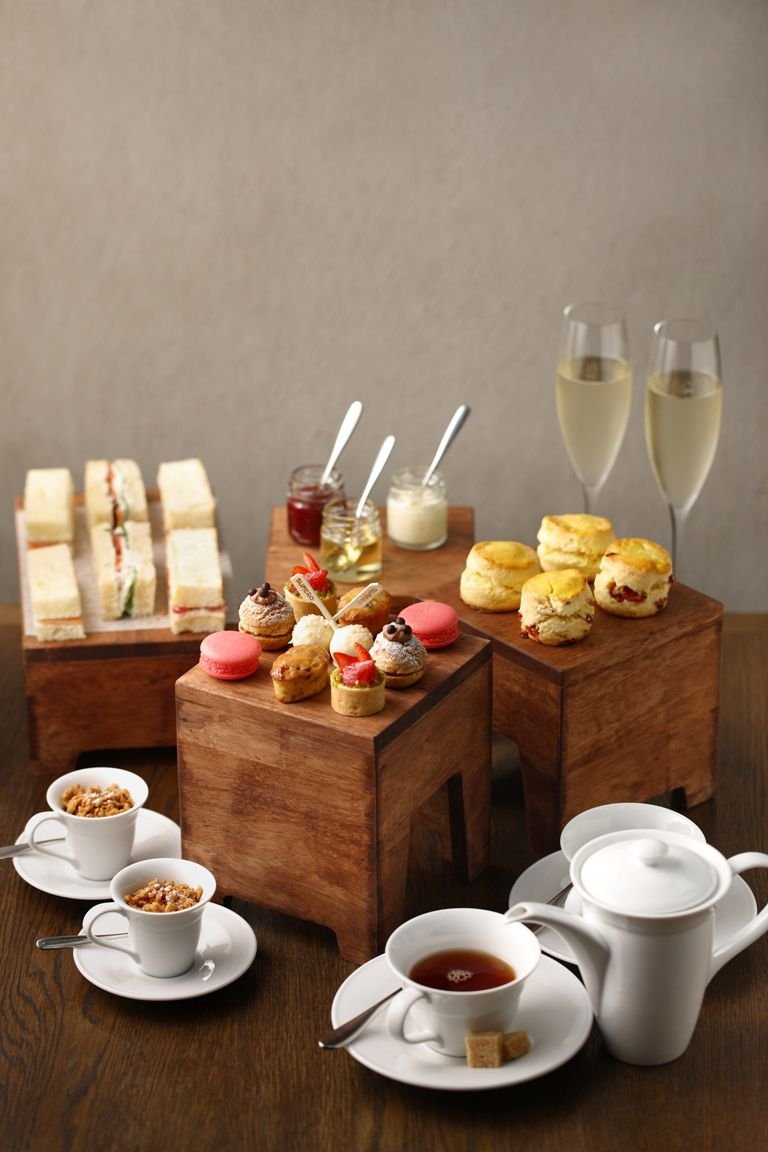 Afternoon Tea at Sureno, The Opposite House
Apart from frequently bringing in collaboration afternoon teas with world-renowned brands, Sureno also have their own signature afternoon tea available. During spring, summer, and autumn it is especially good to go, with the sunken terrace area available for basking in the sun. 3-5pm, RMB 158 (plus 15 percent service charge). Sureno, The Opposite House
High Tea at Capital M
Another afternoon tea worthy not only because of its location but also because of its contents is the one at Capital M. Only available on weekends, the afternoon tea comes with finger sandwiches, freshly baked scones with house made jams and cream, chocolate cake, carrot cake, fruit tarts, and macaroons. Also included is a pot of tea selected from their vast collection, or coffee if preferred. For a glass of Taittinger Champagne, add an extra RMB 100 per person. Sat-Sun 3-5pm, RMB 138 per person (plus 10 percent service charge). Capital M
More stories by this author here.
Email: [email protected]
Instagram: s.xuagram
Photos: Joey Guo, China World Summit Wing, The Opposite House, Conrad Beijing

Visit the original source and full text: the Beijinger Blog