How does your nightlife habits stack up against the average drinker? Now that the results have been posted for the Beijinger's 2014 Reader Bar & Club Awards, it's time to take a deeper look into the profile of the average drinker.
For each ballot cast, we asked you a few demographic questions. Seems you're all a bunch of heavy party animals, with men trolling the bars at average of three times a week, while ladies were out an average of two.
Drinking is definitely part of the plan, as both sexes report "Just for Drinking" in their top three reasons to go out, and the ladies and the men hit two bars on a typical evening out. Drinks per stop reach an average of three (for the ladies) and four (for the men), while men parted with a bit more cash on the average pit stop (RMB 264 vs. RMB 186 for the girls).
Men are more likely to bring a date to their top spot Janes and Hooch, while the ladies said they prefer bring their dates to Xian. As for picking up dates, men prefer Maggies and Dada, whereas the ladies prefer Migas and Xiu (both sexes also listed gay bar Destination in their top three, most likely due to the 10.6 percent of the overall populace that self-identifies as gay, and their strong preference for the city's top rainbow-friendly club).
Here's a chart stacking up the average Male respondent with the average Female ... see how you compare below: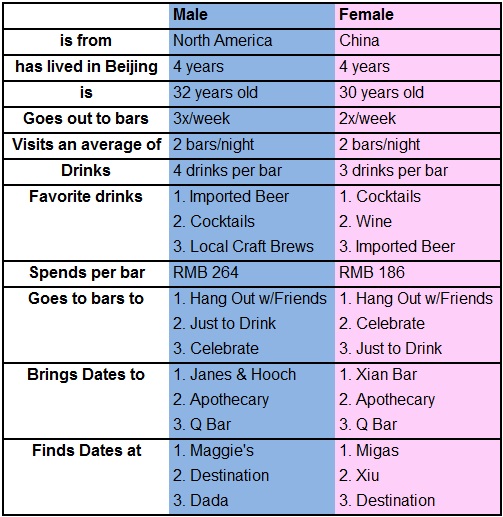 Photo: Mitchell Pe Masilun

Visit the original source and full text: the Beijinger Blog