The Conrad Hotel's plush new lounge club debuted last month with a lavish opening party. The big reveal introduced a hulking, polished space that pairs a decadent snarl of bowed nooks and plump leather sofas with LED walls and flooring that veers from shag pile in the three private rooms to a neon-lit running track around the main room's perimeter. Tokyo-based design studio Spin was tasked with realizing Vivid's concept, and although at times the outcome delivers more of a nod to Gongti's mega club scene than is comfortable, the result is a vibrant and dynamic setting.
The rooftop bar's entertainment is no less eye-catching. Lingerie-clad dancers gyrate daringly atop raised plinths cloaked in lacy veils, while a male dancer tickles a shock of green laser beam wearing a queasy mask of his own. It's all too much to take your eyes off.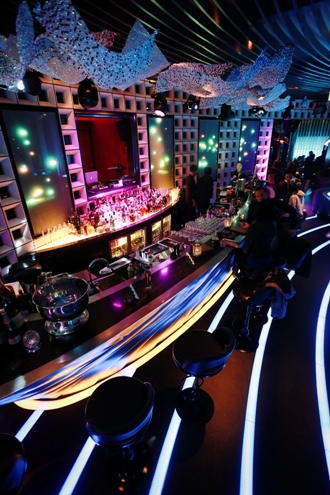 Brief respite can at least be found in your glass. The drink selection reads as you might expect of a confident lounge bar in its class and the standards demand to be savored. Hand-picked beer and wine lists (RMB 50-80 and RMB 260-880, respectively), with an innovative selection of house cocktails alongside flawless takes on the classics (RMB 80-110), all served up with flair or attentiveness depending on whether you take your drink at the bar, or while reclining on low-lit bed loungers.
A Tokyo-style challenge on the senses it might be, and while there are enough recognizable elements to make it less a unique night out, it's just a better one than you might have elsewhere.
Vivid
Tue-Sun 6pm-2am. 5/F, Conrad, 29 Dongsanhuan Beilu, Chaoyang District (6584 6000)
朝阳区东三环北路29号北京康莱德酒店5层
500m north of Hujialou station (Lines 6 and 10)
A version of this article appears in the January 2014 issue of the Beijinger
Photos: Ken