Dawanglu's Winterless Center might be Beijing's biggest hot pot hub. After the Taiwanese hot pot restaurant, Black Knight opened there last year, recently Hong Kongese hot pot and dim sum restaurant Phoenix House opened its door to Beijingers nearby.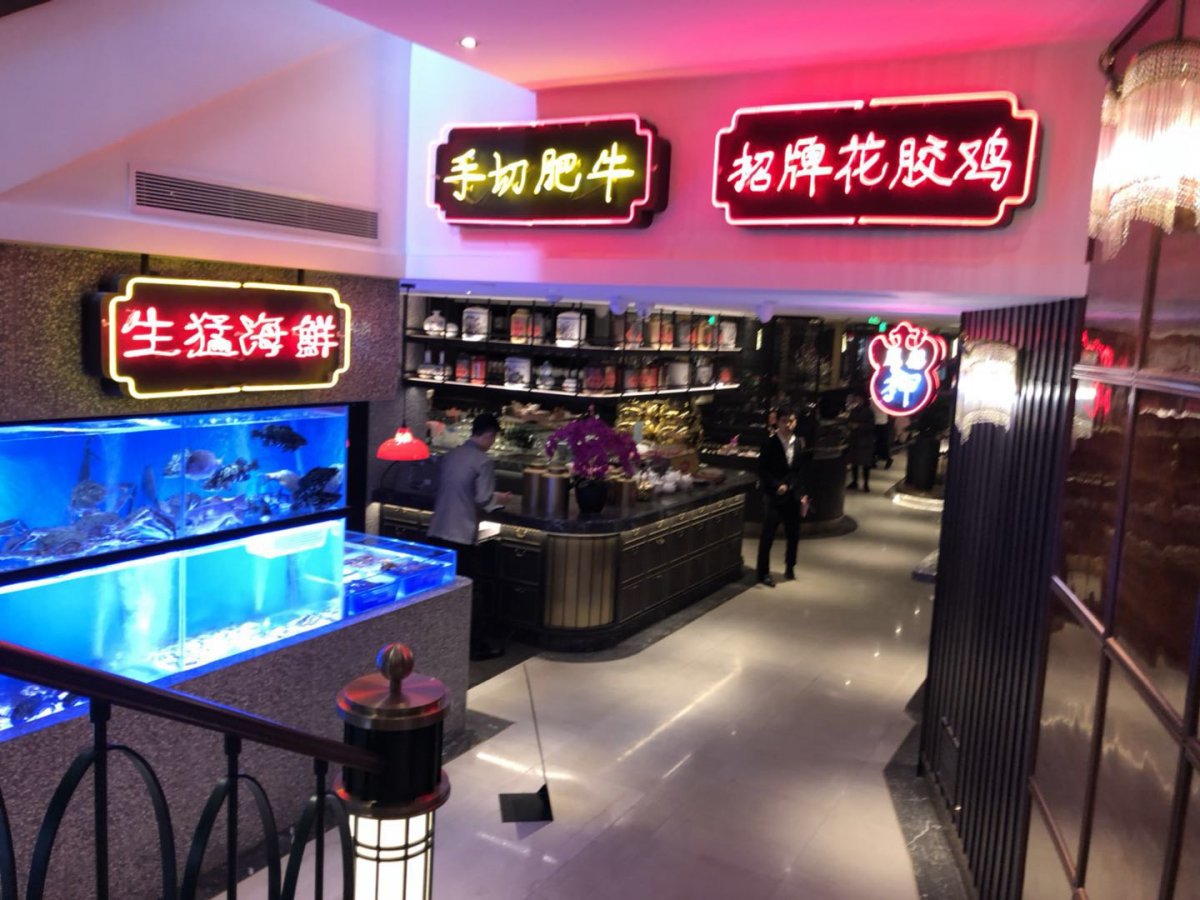 It is hard to go against trends, especially when every other restaurant is trying to be modern, and minimalist. Phoenix House, meanwhile, has the guts to stay true to the roots. Entering, you might feel like you've stepped into a '60s Hong Kong movie, its large and heavy tables are covered with pink embroidered cloth, its old-fashioned wooden chairs are wrapped with leather and embroidery, and the waitstaff is dressed in traditional garments. There's also neon lights, retro chandeliers, and the walls are painted red. Thankfully, the menu is bilingual, with different types of hot pot listed and ingredients you could add on. They also have 70 varieties of dim sum, including steamed pork ribs, chicken feet with ginger, curry fish balls, rice noodle rolls, porridge, custard tarts, sesame rolls, and fried rice and noodles.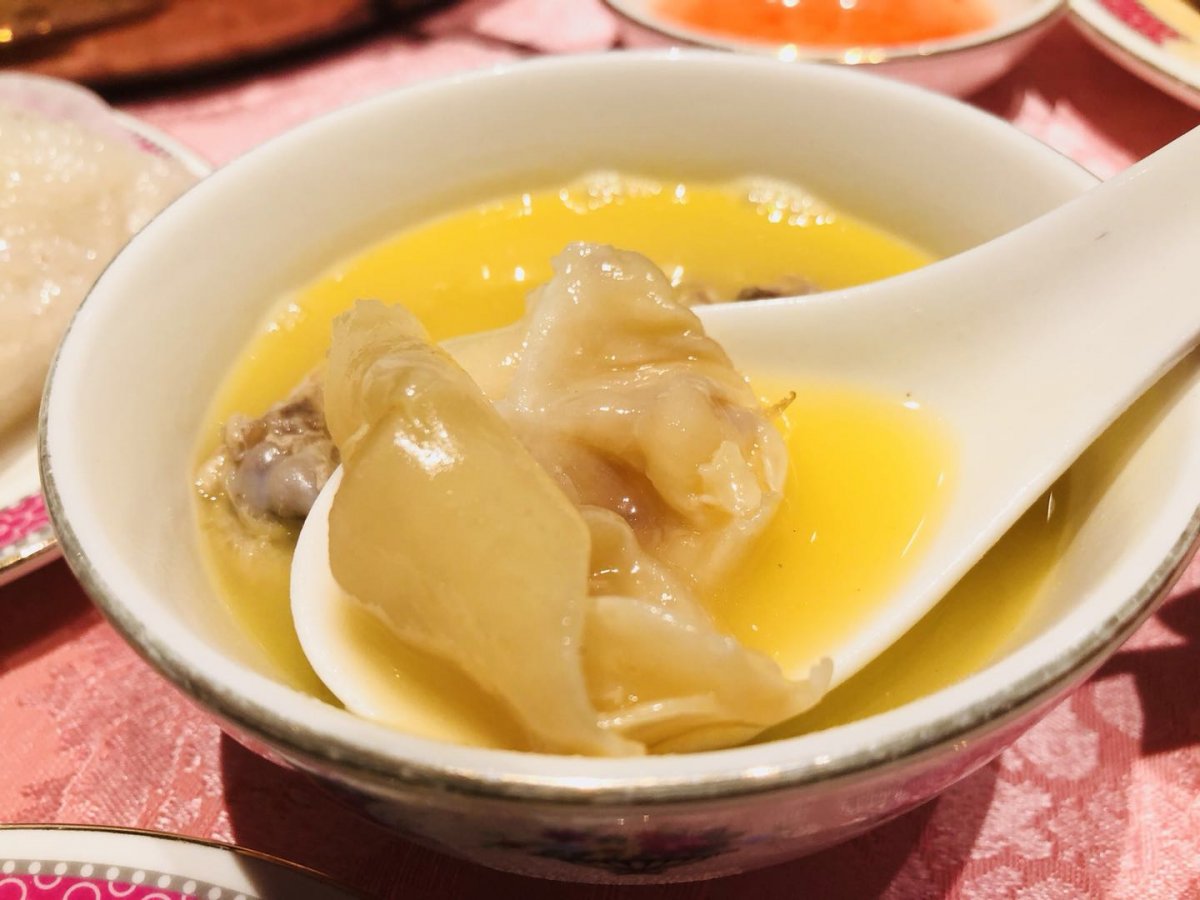 The half chicken pot with isinglass (RMB 298) was served in a large pot, with large blocks of isinglass (fish air bladders) floating inside. Considered very nutritious by Hong Kongese, the isinglass come in a rich and tantalizingly yellow broth sporting a heavy umami hit. The secret to its success? The broth takes eight hours to make and uses two dried bladders and a free range chicken. We also enjoyed the addition of deep-fried fuzhu (or dried tofu skin), which soaked up the flavors in the broth until soft and loaded with the remaining sauce.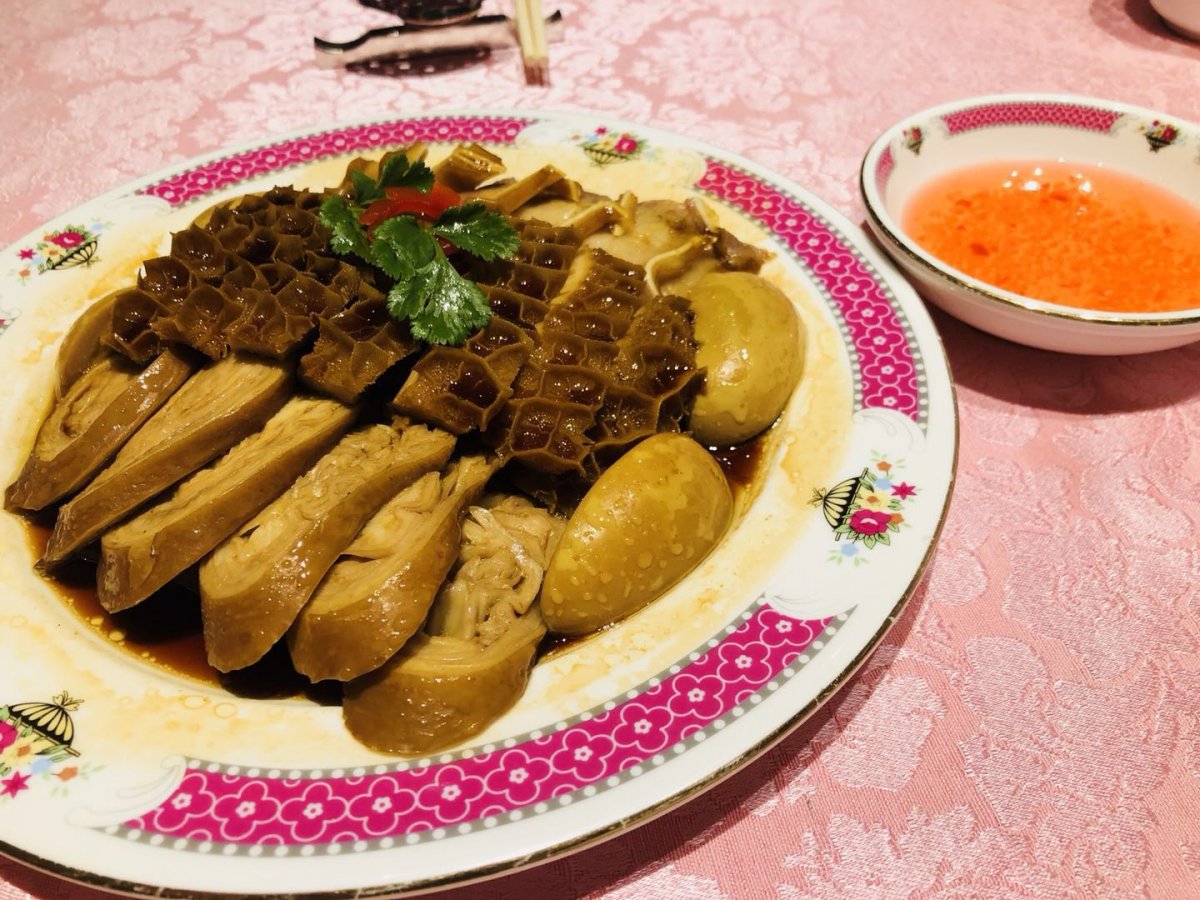 In terms of cold dishes, the brine platter (RMB 88), featuring marinated egg, pig's ear, pig's intestine, tripe, and tofu, might be one of the best in Beijing. The ingredients were not overly salty, benefitting from the process of being brined and boiled with star anise, clove, bay leaves, cinnamon, ginger, and orange peel. To go with the broth, try the white sugar sponge cake (RMB 20), another traditional Cantonese food. The rendition here is sugary, bouncy, and comes with a slightly acidic taste due to the fermented ground rice used to make it. These three dishes satiated two patrons, but there's much more to explore on the menu and reward repeat visits.
The service at Phoenix House was above the average for Beijing, and large round tables make it suitable for group dining. With décor that is reminiscent of golden era Hong Kong and an authenticly hearty hot pot, we expect this spot to become very popular with local clientele and we'd recommend making a reservation if you want to feast on their southern wares.
Phoenix House
Daily 11am-11pm. L101, 1/F, Bldg A, Winterless Center, Dawang Lu, Chaoyang District (6592 7708)
囍凤楼:朝阳区大望路温特莱中心A座1楼L101
More stories by this author here.
Email: [email protected]
Twitter: @flyingfigure
Instagram: @flyingfigure
Photos: Tracy Wang, Dianping

Visit the original source and full text: the Beijinger Blog