Storm Xu has been turning heads ever since the New York Times profiled him last fall. The Shanghai standup's already quickly growing fanbase picked up all the more since that story ran, but he's not exactly thrilled with how it all turned out, surprisingly enough. He tells us about all that and more below, ahead of his Mar 10 set at Salud. 
How did it feel to be profiled by the New York Times?
Honestly, I was honored in the beginning. It's the frigging NYT, after all. But later on, after reading that piece several times, my honest sentiment was Western media – and the NYT especially – focused on my political affiliation far more than my comedy. It's not bad, but not exactly what I want.
You gave up a career in engineering to become a comic. Why?
Financially, fixing cars doesn't really help me pay off my Air Jordans bills. And I always wanted to pursue stand-up comedy. It's been an aspiration of mine since I was a teenager.
Was it a difficult transition to make?
It was alright. One day I showed up to work late, and my boss asked me why. I said "Why isn't everyone late? We should not follow social norms." Then, here I am.
Tell us about the worst time that you bombed onstage.
Two years ago, I was doing the Melbourne comedy festival with four other Asian comedians. I went on first after the host. I was very smooth and tight in the first five minutes. Then I felt the urge to make fun of the USA, so I asked anyone if they were from there. A woman raised her hand, and I asked why she was in Australia. Everyone turned around to look at her. It turns out she was there for the healthcare, she was a chemo patient. 
Really? What do you mean?
I didn't ask for more details. But she definitely looked like chemo patient  She said she moved from Utah to Melbourne, and the room got awkward. I didn't ask any further.
What is happening in the world/your life these days that you might be able to write a joke about?
My current frustration is some people are too soft and acting like crybabies. We are in the safest era of the last hundreds of years, and yet people still complain and sob. Come on, your godfather lived through Hitler and no electricity!
Tell me about the potential of China's standup comedy scene. How might it do well, and what challenges lie in the way of that?
It's gonna be huge and huger. I am a firm believer of that. Regardless of language, people always need to laugh and be entertained. When it reaches a certain level, challenges are obvious though. All the good comedians on this planet need to advance and break past cliches and stupid notions. And in China, since this turf is quite underexploited and underdeveloped, our mission is a bit harder than others.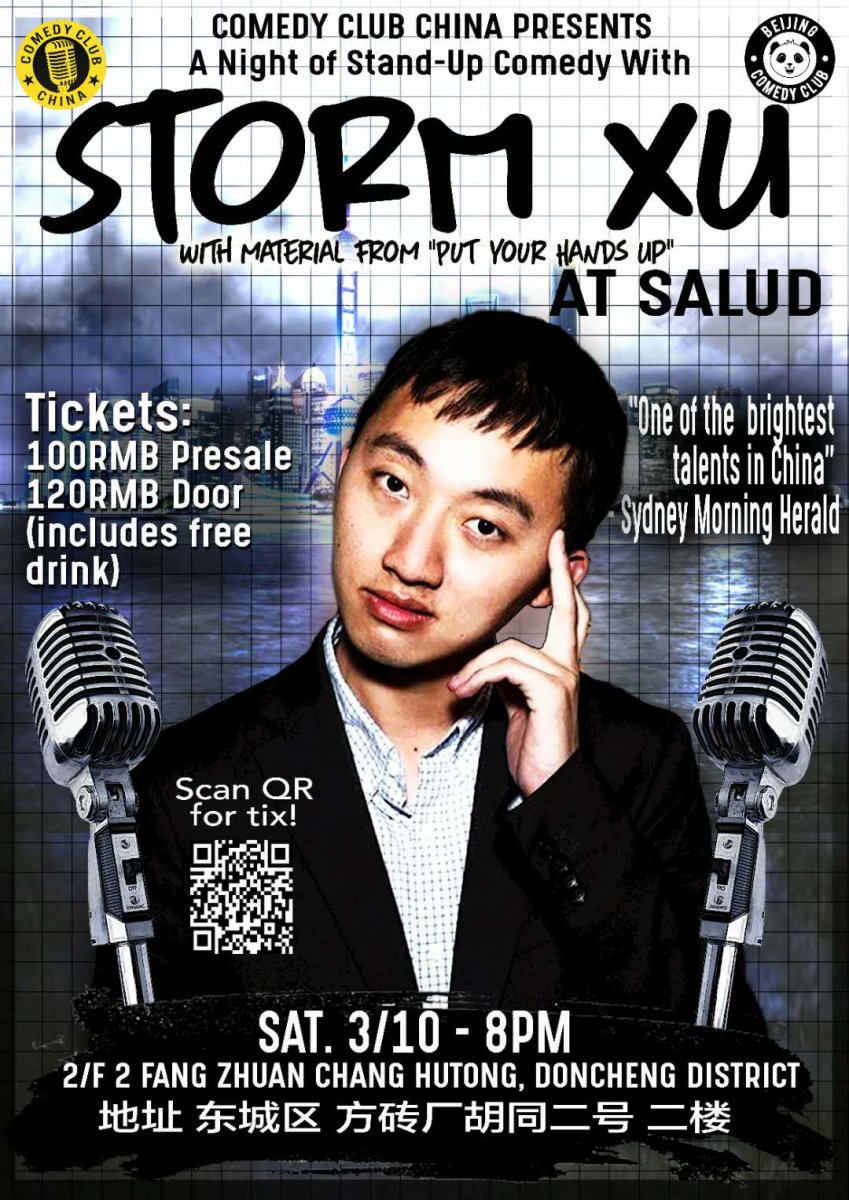 Storm Xu will perform at Salud on Mar 10 at 8pm. For more information, click here.
More stories by this author here.
Email: [email protected]
Twitter: @MulKyle
Instagram: mullin.kyle
Photos: AFR, courtesy of Comedy Club China 

Visit the original source and full text: the Beijinger Blog