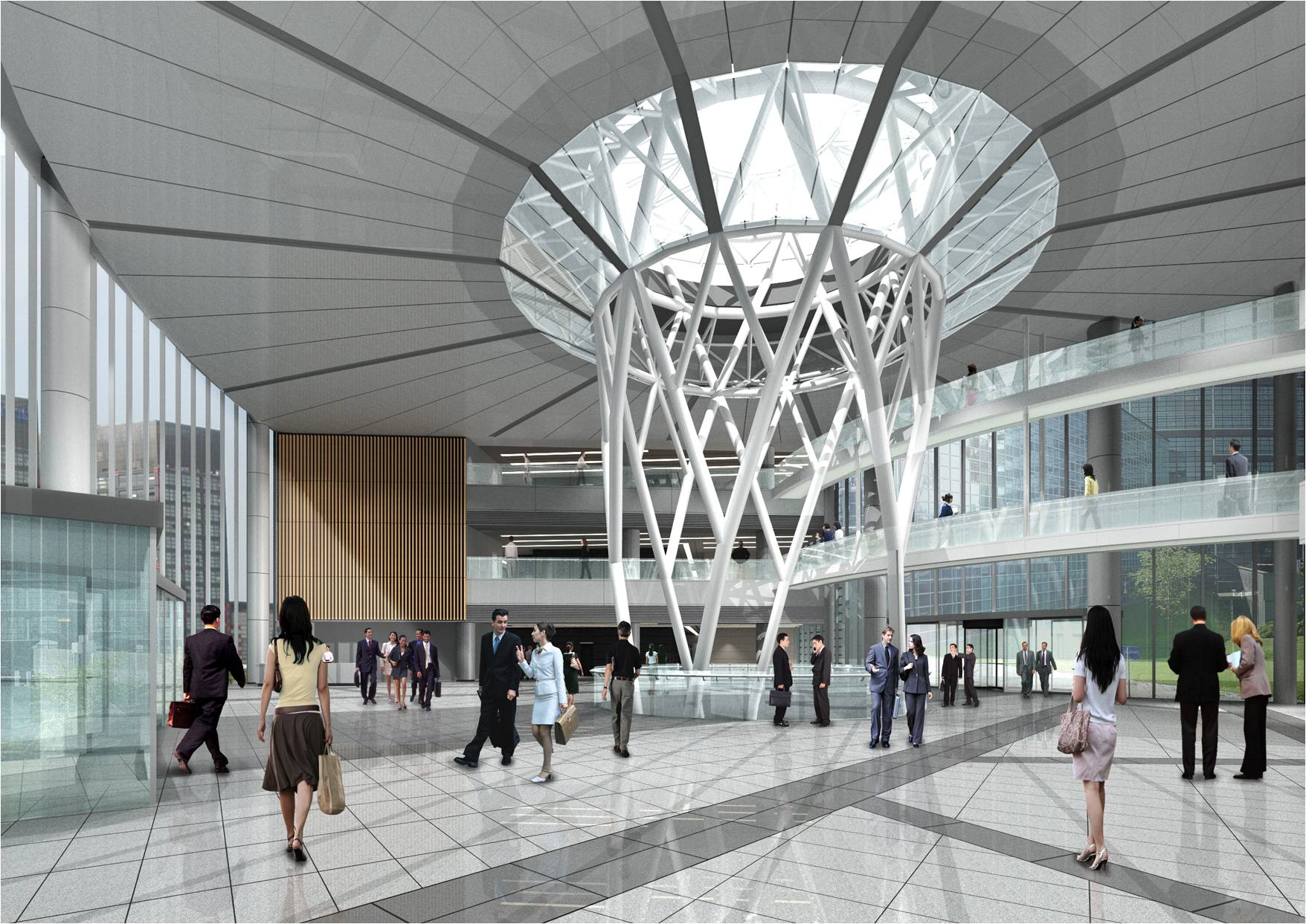 This post is sponsored by POSCO.
 
The POSCO Center Beijing is poised to not merely capitalize, but also further the momentum of Beijing's new CBD 'Wangjing' neighborhood. This pair of gleaming, smoothly contoured buildings will provide a range of top notch facilities and services that will surely help usher in Wangjing's reign as not only Beijing's Centre Business, but also a red hot, vibrant locale for young families.
Any career conscious parent would certainly be pleased to work in the higher up office floors of this facility. The designers have put meticulous thought and planning into how to accommodate the personal and professional lives of the employees working at the companies who rent out those upper floors. Those employees will feel like anything but a cog in a machine or a worker bee in a hive like cubicle, instead enjoying the fitness center and a fully-stacked internationally themed meal hall.
Located in some of the world's leading cities, POSCO's other state-of-the-art structures have already set a high standard for urban innovation, boosting the quality of life in their surrounding neighborhoods. According to the company's website its most impressive facility is the Northeast Asia Trade Tower in Songdo International Business District, Incheon. The 68-story structure is Korea's tallest building, and those floors boast a vast range of options for patrons, businesspeople and citizens. The NEATT tower not only has a luxury hotel and high-end apartments, but also a variety of retail outlets. According to emporis.com POSCO also boasts a 28 story steel high-rise gleaming POSTELL Tower in the heart of Seoul's vibrant, central Gangnam-gu borough, and the POSCO Sports Center at Seoul University.
POSCO also runs an esteemed gallery – dubbed the POSCO Art Museum – in Seoul, where a variety of celebrated exhibits have been held, including a slew of multimedia works that ran last summer, showcasing the best of Australian contemporary art. POSCO's website describes its architectural strengths as lying with the application of "cutting-edge technologies, including flat plate structural systems, wind-induced vibration reduction technology, and energy saving technology, we are creating buildings that not only look great, but also protect the environment and ensure a safe living space for all."
That last point is an especially key attribute of the new POSCO Center Beijing, which will utilize an abundance of vegetation for the "sunken garden" in its entryway, creating a vibrantly green destination for those looking to work, shop and eat in the new complex. That lush vegetation will minimize the impression of Beijing's business center as a grey, bland concrete jungle.
The neighborhood is already primed for such a big, well-equipped facility that is able to house a variety of offices, small businesses and restaurants. Within the vicinity of POSCO there is a host of big brand local branch headquarters already up and running, including Mercedes and Caterpillar, Microsoft and Sony, Staples and more.
 
Sung Chung, a young father from L.A. who moved to Wangjing from the Wudaokou university district three months ago, says he has been most impressed by his new home's family friendliness. He lives in an apartment complex on the west end of Wangjing, and says it is an ideal midway point between his office in Wudaokou and the Daystar academy, where his children attend school.
"I can find a really good balance here because it's not way outside of the city, in the boonies, but it's still quite close to all the international schools in Shunyi," he says, adding that it takes his children about 20 minutes to commute there every day. "At the same time, Wangjing is close to line 15, which is a straight shot to Wudaokou. So it's really convenient for me."
Above all, Chung enjoys the cozy, quiet comforts of his new neighborhood, making it an ideal place for him to raise his little ones. Wangjing is very placid, compared to his old stomping grounds in the university rife Wudaokou area, and its proximity to the international schools in Shunyi and other family friendly (but frequently pricier) areas like Lido make it a strategically located point to experience the best of all those worlds.
Christopher Lay, another expat father from Portland, Oregon, has lived in Wangjing since 2008, and has seen the area undergo a massive degree of change in that time. He and his family are moving away from the area soon, but he says he enjoyed his time there, echoing Chung's sentiments of Wangjing being a "diverse community with lots of families and friendly neighbors."
"Wangjing has been continually expanding since we moved here seven years ago. The dining scene has been getting better in the last couple of years," Lay says, adding that it would be nice to have a facility similar to Indigo Mall there, or a Costco. However, he is hesitant about massive new shopping centers and business complexes being able to magically transform the area into Beijing's hottest new neighborhood. He explains: "Wangjing has continued to expand where it is able. However, there are has been a lot of commercial development where it seems to have over expanded before there was enough demand … Personally, I don't think it needs more shopping centers."
But Chung disagrees, saying the relatively new Wangjing SOHO complex has been bringing in many new retail businesses. "Because of its good location, all the good Korean food in the area, and the new retail businesses coming in at the SOHO complex, I could see another facility bringing in a lot of exciting new things as well. Wangjing definitely seems to be an up and coming place."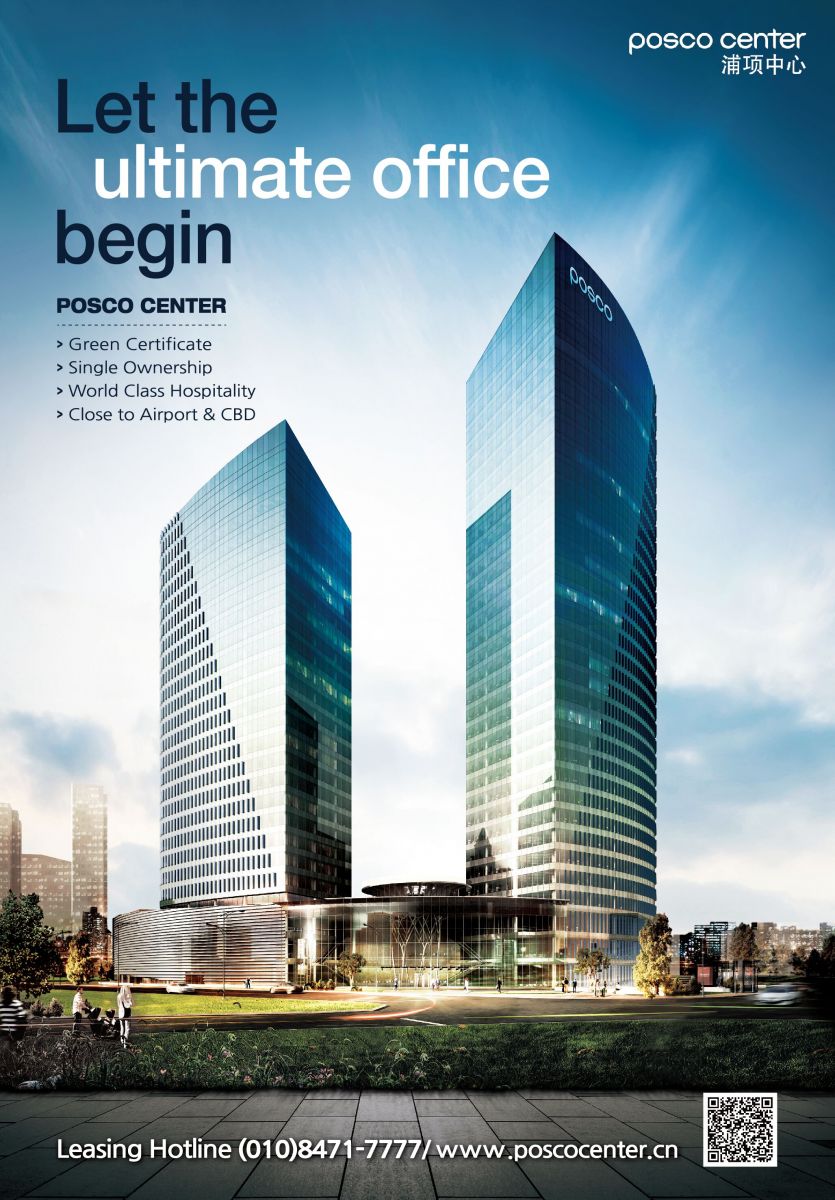 While a few less than successful developments in the area may have left some Wangjing dwellers like Lay skeptical about the neighborhood's potential, others may argue that a professional company like POSCO would be the ideal developer to help the community break through, given the firm's success with its Seoul and Incheon skyscrapers. Rather than engaging in cavalier practices that only serve short term profits, POSCO instead adopts long term plans that not only help its projects thrive financially, but also help bolster the surrounding community's quality of life and environmental sustainability — from its efforts to build environmentally friendly buildings to its charity work with impoverished Vietnamese families, tree planting ventures in Beijing and more. These socially conscious ventures are presented in further detail here and the POSCO Center Beijing will be undertaking more initiatives soon, making it the ideal place for local families to not only benefit, but also give back.
Images courtesy of POSCO

Visit the original source and full text: the Beijinger Blog