A Closer Look reviews the winners from our 12th Annual Reader Restaurant Awards, which were announced March 16. We pulled apart your submissions and below are the restaurants responsible for the Best Japanese Ramen in town:
If ramen had arms they would elevate its tastebud hugging capabilities tenfold. Seriously though, who doesn't enjoy the idea of a warm soupy broth gently simmering a delectable handful of freshly pulled noodles. Below the swirling oily depths, a mixture of vegetables and meat bring the brine together, while gooey yolk and seaweed slivers delicately float atop. When you need to sit down and gather your strengths for the hours ahead, downing a hearty bowl of noodles and broth is a tried and true method many Beijinger's testify to. Below are the Best Ramen spots you voted for that hit the spot every time: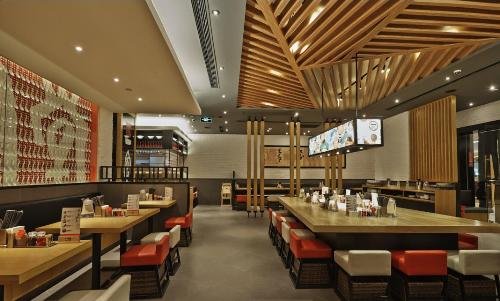 Best: Ippudo
Since the 80's this ramen chain has stretched across the globe and swirled its noodle magic for hypnotized crowds. Settling its Beijing flagship kitchen in the Kerry Centre the chain regularly has people en masse standing outside patiently waiting for their next broth hit. Their broth is one of the most acclaimed soups in the city, with balanced flavors accumulated through days of preparation offsetting noodles who need a mere 20 second exposure in scalding water to see them fit for consumption. A red spill of miso paste swirled with garlic infused oil around seaweed strips and chunks of pork make the hearty tonkotsu broth in the Special Akamaru (RMB 55) one of their classics.
 
Outstanding: Ajisen
With about 30 restaurants scattered about Beijing the reliability factor of Ajisen makes it one of those brands where the consistency of basically good ramen is honest enough to make noodle craving punters come back for more. A name that means 'a thousand tastes' the wide variety of broth and noodle combination leaves plenty of room for experimenting. Reviewer danedwards posted some hot tips saying "Personally, I generally go for the vegetable noddles, as the veggies tend to come in more generous serves and are hence better value for money. The fried dumplings aren't bad either, if a little oily."
 
Outstanding: Invincible Ramen
A formidable kilo of boiled pork bone concentration per bowl of ramen makes Invincible Ramen's broth of the most intensely condensed flavors in the city. With four locations ladling this winter fighting warmth, it's certainly more a carnivore's dreamscape than anything else. With many ramen bowls featuring a simple half egg balance of delicately gooey yolk, and a hearty slurping of chewy, fresh-pulled, noodles, fighting away the bone-chilling winds of Beijing has never been easier, or tastier.
Hungry for more? Follow all of our 2015 Reader Restaurant Awards coverage here.
Email: [email protected]
Instagram: @wander_in
Wechat: erinstrong
Photos: Beijinger, tripadvisor, lumdimsum

Visit the original source and full text: the Beijinger Blog