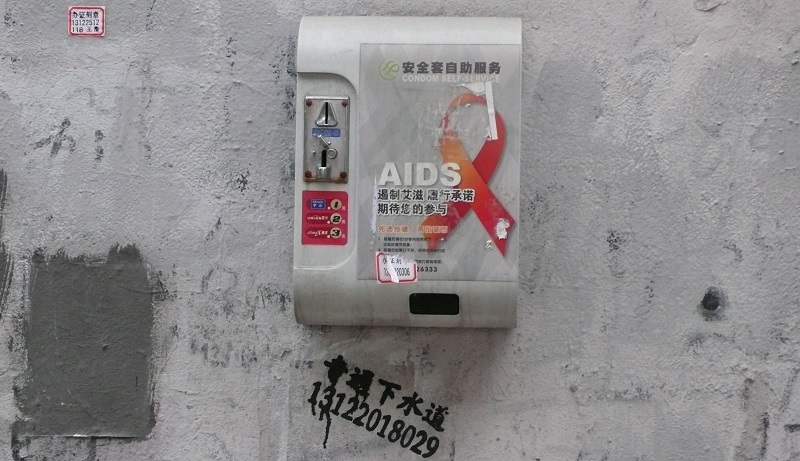 All Beijing colleges will be equipped with condom vending machines by the end of this year and all incoming freshmen will be given a course on HIV/AIDS prevention, the Global Times reports this morning.
This is not the first time condom vending machines have appeared on a Beijing college campus: Tsinghua, that hotbed of student randiness, installed them in 2011 only to see them fall into disuse a year or two later, a Tsinghua professor is quoted as saying.
Nowadays, condoms are readily available at convenience stores and pharmacies in Beijing (but avoid those fakes!), and even those who seek privacy have the option of ordering online via China's well-developed ecommerce platforms, so the wisdom of vending machines may be in question.
Students are one of the main targets of this year's HIV/AIDS prevention program launched by the Beijing Municipal Commission of Health and Family Planning.
The article says 2,932 people were infected with HIV/AIDS in Beijing from January to October 2014, a 21 percent rise from a year earlier. Over 100 of the infected were students and over 95 percent of the transmissions were through sex.
The article also notes that number of 15- to 24-year-olds infected with HIV/AIDS almost doubled between 2008 to 2012, with homosexual sex as the most common cause.
China has a long way to go in terms of sex education. There is no mandatory sex ed at any level in China's education system, and some textbooks even continue to profess outdated notions like masturbation will lead to mental disorders and homosexuality. Only a few universities in China offer sex education, and the courses are not mandatory, the article points out. Governmental efforts to teach sex education have been met with protests from more conservative ends of society.
According to statistics from the China Population Communication Center published in Beijing Today, 25 percent of Chinese high school students have sex before graduation, yet fewer than 5 percent have been taught anything about reproductive health or contraception.
Image: Christopher (Flickr)

Visit the original source and full text: the Beijinger Blog