Woodstock: In dealing with such a revered legacy crafted from New York state counterculture history, one wonders if the namesake equally holds true for this new restaurant opening in the Xiushui Nanjie space that formerly housed American Steak and Eggs.
A clean, tiled opening meets the platform, with separate twin areas mirrored with long tables. So open and light-flooded is it (i.e. sterile), you begin to fear the restaurant does not quite understand the associations implicit to its 1969 namesake festival.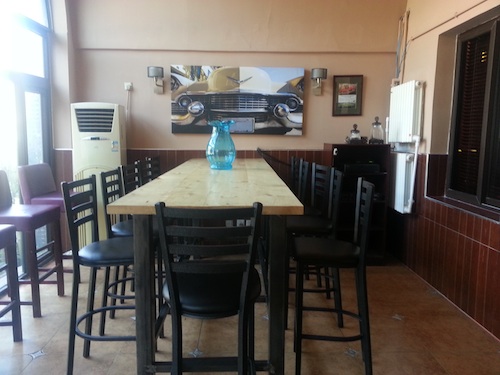 Your thoughts are settled a bit once you step away from the long tables and head in towards the darkened bar. At once you are met with a slight juxtaposition, a foosball table right in the middle of the dining area. However this seems to add a certain playful character to the place, a carefree nod towards the hippies of yore and other light-hearted folk who gather in bars at night for good fun.
Deep burgundy red wallpaper compliments the dark brown chairs and tables, and a warm, light-yellow paint has been used to highlight the ceiling fans and appropriately chosen concrete columns. Each dining space has its own sense of interior design, with one corner sporting large screen prints of famous NY scenes, another holding low-slung modern lighting, and a third being suitable for the sports fan with an impressive projector screen. It does a good job of mimicking the stereotypical sense of an American bar one might adopt as a regular hangout.
The bar at the back is well-stocked and will be well-used during their pair of daily five-hour long happy hours (12-5pm up to 50 percent off non-alcoholic drinks; and then 5-10pm up to 50 percent off alcoholic drinks). A spin game at the counter challenges groups to try and win free bar food. Another gimmick, but hopefully is one that will attract punters to come back.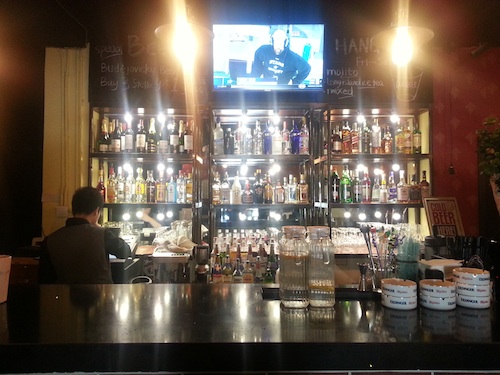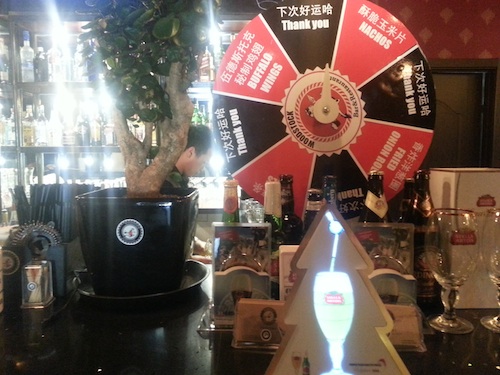 At the front of the menu there are four meal options, above them the words "challenge yourself, or share with friends." Not one to dismiss a challenge, I asked about their Woodstock Super Burger (RMB 118). The waitress estimated an area about the size of a small child as a representation of the meal size. Since I was my own company, I opted for the smaller Woodstock Burger (RMB 85), however I think the definition of small here is debatable as I was presented with a towering structure of beef, BBQ pork, bacon, emmental cheese, Woodstock glaze, and a number of salad additions on bread. The fries came in an adorable fry basket and were well-seasoned, with the crunch factor hitting it just right.
It's definitely no history-making music festival, but is a fun place to unwind with some good companions. Especially if he is a yellow bird that flies upside-down and sympathizes everytime you curse at the Red Baron.
Woodstock
Daily 10am-midnight. 17 Xiushui Nanjie, Jianguomenwai Dajie, Chaoyang District (6592 8788)
朝阳区建国门外大街秀水南街17号
700m northeast of Jianguomen station (Lines 1 and 2)
Photos: Erin Strong

Visit the original source and full text: the Beijinger Blog