If Korean-Mexican seems an unlikely a cuisine, what's even more unlikely is Korean-Mexican in the hutongs of Beijing. Luckily, both of these things exist. It's been just over five years since the trend rolled through Los Angeles, California (on a food truck no less), spread through the States, hopped over the Pacific, dropped in on Seoul, and has now set up house in Gulou.
There are a number of reasons to visit Palms LA Kitchen and Bar. Kimchi (in places you'd never think), yerba mate cocktails, and Korean barbecue with Tapatio sauce are probably the top three. The menu hits the classics of the Korean-Mexican canon – if you can have one in such a short period of time – with tacos ranging from RMB 38-45 (for three) and barbecued meat choices like kalbi (beef short rib) and Korean-style pork. Burritos are RMB 45-56 with similar choices of meat, as well as a vegetarian option.
Beyond the more off-beat Korean-Mexican options, Palms LA Kitchen also offers less fusion, like stuffed mushrooms (RMB 35) baked with ham, garlic, cheese and beef empanadas (RMB 30). The guacamole seemed a bargain at RMB 22, but unfortunately it was somewhat scant on avocado and had a slightly grainy texture.
It's hard to go wrong with melted cheese and carbs, so if you're already a fan of fermentation, then the kimchi quesadilla with sriracha sour cream is worth splitting amongst the table. "Loaded" fries are topped with refried sweet Korean-style pork, caramelized kimchi, tomatoes, onion, cheddar cheese and an avocado cream. It's a fabulous concept that could use more of everything to load down the fries – which were average.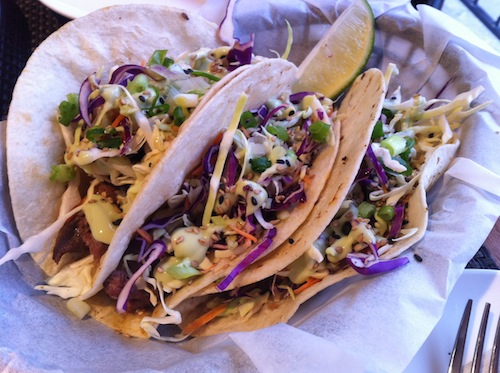 If the copious amount of kimchi and barbecued meat hasn't convinced you, then the cocktails will. There's a choice of seven signature cocktails (all for RMB 50), and the few that we tried were each singularly excellent. The LA Water is a tie-dyed thing of a drink. It's their riff on a Long Island – sweet and powerful. The refreshing El Imigrante stole the show though. You should like grassy flavors as the bar has infused vodka with mate and topped with Sprite.
The greatest part about it all? For the rest of this month (until April), cocktails are offered for the whole day at the happy hour special of buy-one-get-one-free.
The new culinary tradition that Palms LA  has brought to Beijing is intriguing. What Korean-Mexican burritos I've had off food trucks in LA and New York have been outstanding. The kitchen at Palms LA has some room for growth – they are not of a formal culinary background, give them some time – but it's more than certainly worth a visit.
Palms LA Kitchen and Bar
Daily 11.30am-midnight. 14 Zhangwang Hutong, Dongcheng District (6405 4352)
东城区张旺胡同14号
Photos: courtesy of Palms LA Kitchen and Bar, Cat Nelson

Visit the original source and full text: the Beijinger Blog