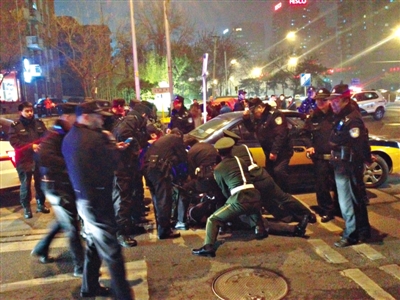 A masked robber stole 11 watches from a Cartier store in Wangfujing Monday, ran away from store clerks, and making a getaway by taxi and on foot before finally being apprehended by Beijing police, the Beijing News reported.
The incident began around 7pm Monday evening at Macau Center in Wangfujing, when the assailant, wearing a mask (it is unclear whether this was a Richard Nixon Halloween-style mask or a balaclava) entered the store brandishing a knife. Only a single female salesperson was in the store, with the other staff eating dinner. The suspect, whose name was not given, taped the sales clerk's hands together, and then helped himself to 11 watches with an estimated value of RMB 3 million, Beijing News reported.
As the suspect exited the store, two Cartier salespeople spotted him and gave chase. Although an English-language account of the robbery states he pulled out a gun and fired two shots, the Beijing News report makes no mention of this, and says that the gun found on the suspect was a plastic toy.
Emerging onto the street, the suspect tried to steal a Jinbei van, but was unable to start it. He then jumped into a taxi, with the driver, according to Beijing News, telling him to calm down. After driving only 80 meters, the robber told the driver to stop, where he jumped out and continued to run.
The suspect was finally arrested by about 50 police on Jinbao Jie, about two kilometers from the site of the robbery. All 11 watches were recovered and the suspect was taken into custody, the report said.
Photo: Beijing News

Visit the original source and full text: the Beijinger Blog