This ain't your daddy's dim sum: There are no bite-sized dumplings. The waiters don't wheel around carts stacked with bamboo steamers. The restaurant's origins don't even lie in the ancestral home of dim sum – Hong Kong – but instead in Shanghai. And yet Charme, a popular chain with several locations in Beijing, has somehow snagged a nomination for Best Dim Sum in TBJ's 2015 Reader Restaurant Awards (the voting for which closes on Sunday). How can this be?
At first glance, it looks as if our nominating panel made a blunder. However, upon closer examination, it becomes apparent why Charme has received a nod in this category.
It helps at first to define dim sum: Traditionally, dim sum is "a style of Cantonese prepared as small bite-sized or individual portions of food served in small steamer baskets or on small plates."
Charme works like a dim sum restaurant in the sense that its menu is full of delectable small dishes – perfect for sharing a bite or two between friends. This allows diners to dine in a dim sum style, ordering a lot of dishes to share.
It's a contemporary eatery that delivers dim sum for the 21st century: no slavish devotion to old-timey standards and a menu updated for the burgeoning middle classes, pulling influences from around the world.
But Charme is also a lot more than that – in fact the closer one looks, the more the restaurant defies categorization. A look through the pictures that fill its well-designed bilingual menu you'll find western cuisine, standards from around China, hints of southeast Asia, and unusual fusions of them all.
Dim sum fans will find a few of the items they're used to: like Stir-fried Turnip Cake and Durian Cake. Other dim sum-esque options include the teensy Steam Towel Squash with Chopped Ham and Garlic (RMB 36) and the pebble-sized Baked Fresh Mushroom and Vegetable Balls (RMB 28). While these may not be dim sum in the conventional sense, they are imminently sharable in just the same way as dim sum.
Some of the restaurant's newest main dishes are are also enticingly offbeat: mainly the Lobster Wontons (RMB48) and the Smoked Salmon Roses with Applewood (RMB 55).
The menu is easy to peruse and fully bilingual, aside from some rambling dish titles and giggle-inducing instances of Chinglish. But with massive photos, there's little room for misinterpretation.
Charme is also known for its soups, which are a little less ambitious than some of the other dishes, but no less delicious. The soups on offer include The Charme Hawker's Spicy Noodle Soup (RMB 28), Laksa Vermicelli in Spicy Coconut Soup (RMB 35), and the Flat Noodle Stewed Beef Short Rib Soup (RMB 37). The latter is filled with tender ribs, delightfully pickled vegetables and warm wide noodles.
Other dishes of bite-sized treats include the emerald-coloured Pandan and Cheese Rolls (RMB 32), the Ice Cream Dome Cake (RMB 36).
It's with these (and other desserts) that Charme distinguishes itself. Among those creative sweets are the highly popular Jumbo Toast Block with Honey and Ice Cream (RMB 34), which features a scoop of ice cream buried in a loaf of what amounts to unsliced Wonder Bread. Those not seduced by this unusual, communal take on the ice cream sandwich might want to sample the House Pavlova with Fruits (RMB 42) or the Orange and Chocolate Sawdust Pudding (RMB 34, which is much tastier than its unfortunate title implies).
The Black Sticky Rice, Mango and Coconut Ice Cream (RMB 35) manages to capture all of Charme's multicultural charms in one dish. It doesn't disappoint, with a heavenly rich flavor that can came courtesy of its fruit mix, its pair of protruding chocolate wafer sticks and its sticky rice base.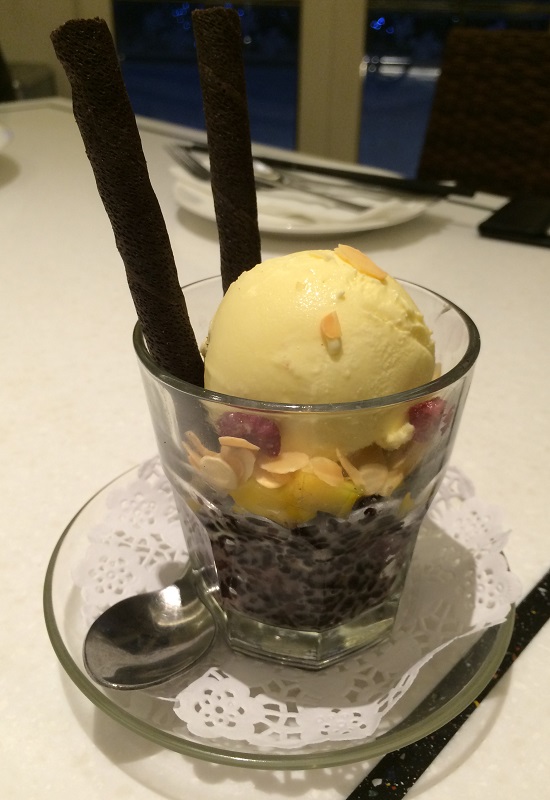 Topping it all off is the fine dining environment at Charme. Chandeliers give warm lighting to the modern interior, and cleanliness appears to be a top priority with the management as the place is squeaky clean.
While Charme doesn't fit the traditional concept dim sum, its quirky range of small dishes, combined with prompt service, a clean dining environment and reasonable prices makes the Shanghai chain well worth a visit.
Photos: Kyle Mullin

Visit the original source and full text: the Beijinger Blog