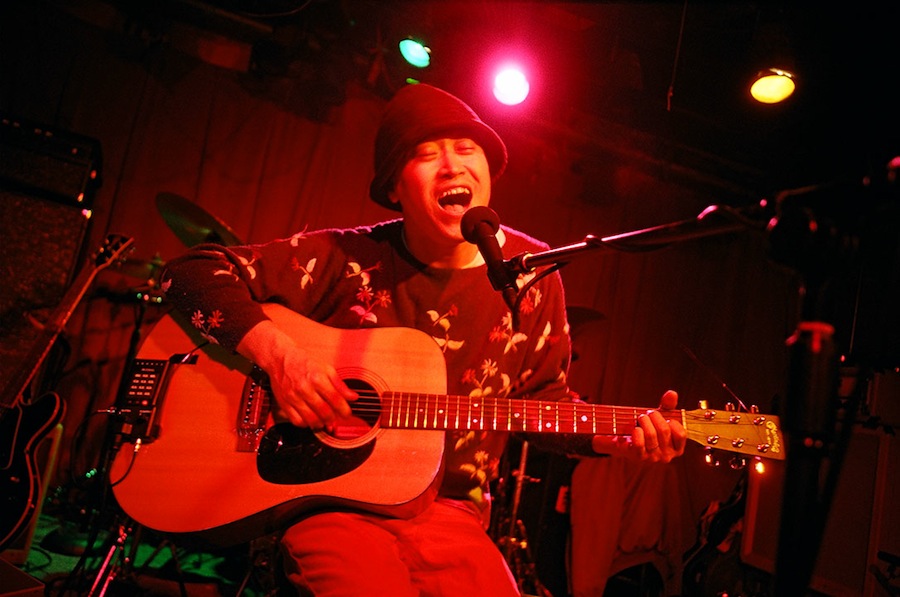 Not to be confused with the Han dynasty statesman, Xiao He is the pseudonym for Beijing experimental musician He Guofeng, who has been a major player in the scene since the early 2000s with his experimental folk band Glamorous Pharmacy. He has since enchanted Beijing, Europe, and America with his intensely unique hybrid of automatic songwriting, sample layering, and frenzied one-man-band chaos.
His voice will go between high pitched Peking Opera stylings to something that's throaty and guttural, that belongs on the Mongolian grasslands. He'll sometimes use his acoustic guitar to trigger all kinds of sounds ranging from drums or other musical instruments to bodily functions (chewing, burps) into a kind of life/sound alchemy that's more akin to a crazed foley artist than a folk musician.
Lately, he has been taking more and more time off from the stage, so if any of this sounds interesting, then this should be an essential concert this weekend. Check him out this Saturday at School Bar. Don't be afraid to throw down the RMB 130 cover charge, because this guy, more than many others not worth mentioning, actually deserves your patronage. Plus, chances are he won't stop playing until he feels like every single person in the room has received his or her money's worth. Check out the event listing here for more details. 
Photos: Matthew Niederhauser, Maybe Mars

Visit the original source and full text: the Beijinger Blog