Warning
: preg_match_all(): Compilation failed: invalid range in character class at offset 119 in
/home/chinaexp/public_html/wp-content/plugins/membership/membershipincludes/classes/membershippublic.php
on line
848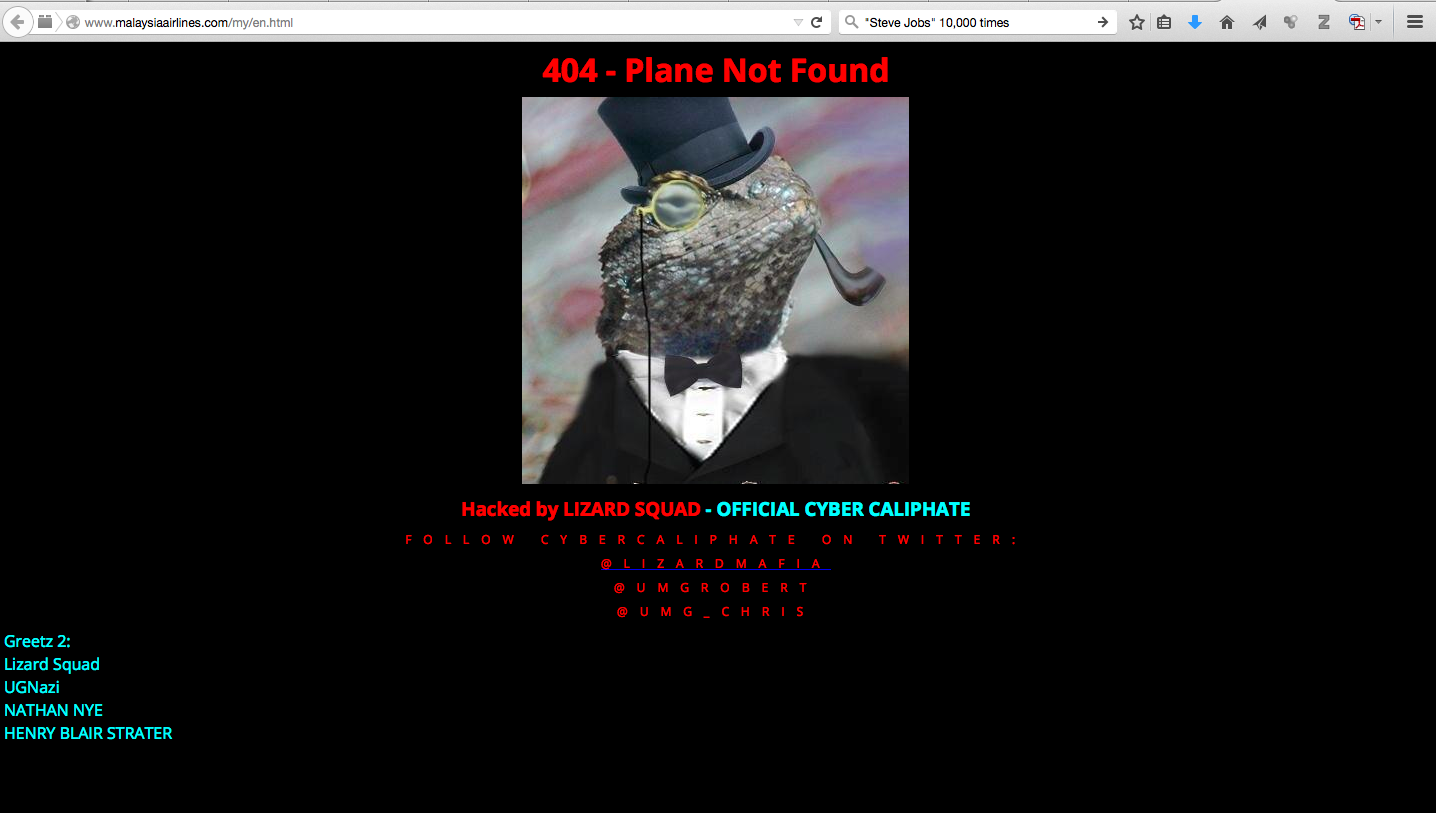 Malaysia Airlines hasn't had enough problems in the last 12 months -- now someone has hacked its website.
The "Lizard Squad - Official Cyber Caliphate" claimed responsiblity for the takedown, which replaced the airline's usual booking and information homepage with a black page featuring a photo of a tuxedoed lizard. Atop the page was written "404 - Plane Not Found," a parody of the usual 404 error, "Page Not Found."
The page ran under the heading "Lizard Squad Will Prevail," and included "Greetz 2: Lizard Squad; UGNazi; NATHAN NYE; and HENRY BLAIR STRATER."
It also included Twitter handles for @lizardmafia, @umgrobert, and @umg_chris.
The hacking took place at about 10am Beijing time, and still had not been fixed by 1pm Beijing time.
Malaysia Airlines MH370 dropped from radar on March 8, 2014, during a scheduled flight from Kuala Lumpur to Beijing, with 239 passengers and crew aboard. No verified communication or objects from the plane have been received or found since then. Along with 154 Chinese passengers, a number of members of Beijing's international community remain missing.
A full list of non-Chinese passengers categorized by nationality is here. A full list of passengers including Chinese names can be found here.
Photo: the Beijinger/Lizard Squad/Malaysia Airlines

Visit the original source and full text: the Beijinger Blog