Warning
: preg_match_all(): Compilation failed: invalid range in character class at offset 119 in
/home/chinaexp/public_html/wp-content/plugins/membership/membershipincludes/classes/membershippublic.php
on line
848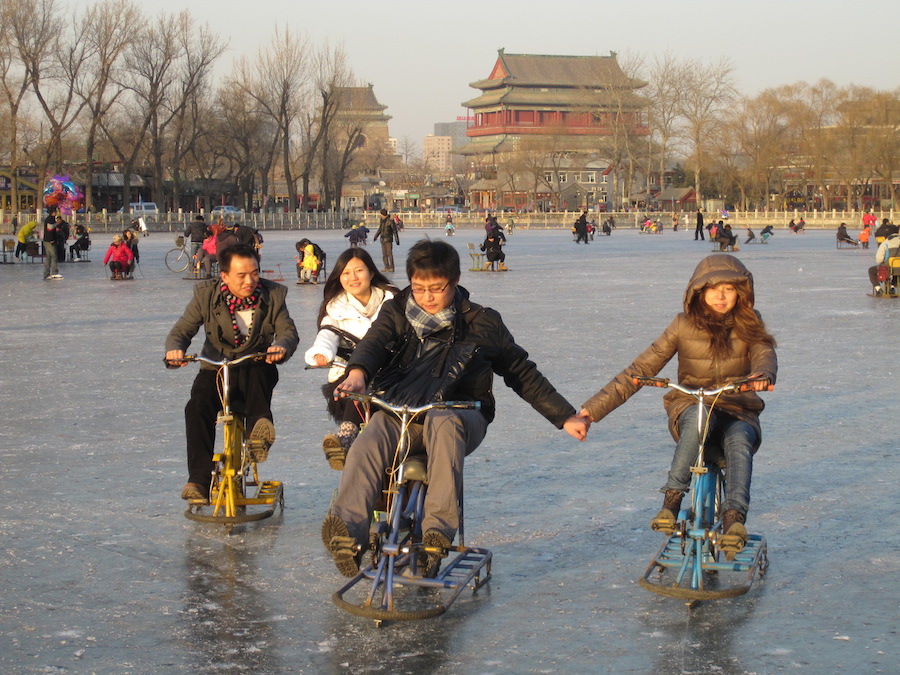 Rather than staying indoors and hibernating, we decided to make the most of the freezing temperatures and head for the city's central lakes for some ice fun. On a clear day, the bitter wind can whip across frozen lakes such as Houhai, so wrap up warm. Time your visit well too, after lunch time and the queues remember we're in Beijing can be very long. There's a whole range of ice contraptions to enjoy. There are bumper cars, which are basically electric powered dodgems. The ice bikes require a bit of effort, to propel them across the ice. Ice skates are popular, but don't expect a smooth ride, the surface is pretty bumpy. We opted for chair sleds; basically two wooden chairs bolted onto metal runners, and propelled using metal poles. Be warned, the steering wheel is for decorative purposes only. After a few hours of winter fun, what better way to warm up than over a bowl of Vietnamese pho at Nuage.
Nuage, "cloud" in French, opened in 2002 and remains one of the best dining venues in Beijing for Vietnamese cuisine. This long running Houhai restaurant is housed in a historic Qing Dynasty building, on the shores of Qianhai Lake. Spread out over several floors, the décor throughout is fabulous, with open sofas at the bar, traditional Chinese four poster beds with cushions, bright paper lanterns, and French colonial style drapes. Nuage boasts one of the nicest rooftop dining spots in town, with fantastic views of the lake and the Drum and Bell Towers. To enjoy the views you have to pay a 15 per cent service charge, but on a clear day it's absolutely worth it.  In the basement there is a large dance floor and stage area for live music, mainly jazz.
We ate pineapple shrimp rice RMB 68, Vietnamese chicken curry RMB 48, grilled lemon grass chicken in tin foil RMB 58, and pumpkin soup RMB 38. Soft drinks were RMB 25 each. The rice was served in a scooped out pineapple, which the kids thought was great, especially as their soups were served in scooped out pumpkins. The rice was sticky, and not too sweet, the shrimps a nice firm texture with good flavor. The pumpkin soup was thick, and well-seasoned, and the kids lapped it up. The grilled chicken consisted of six large pieces of tender chicken, perfectly flavored with lemongrass, and wrapped in tin foil parcels leaving it meltingly soft.
The highlight was the chicken curry, plentiful pieces of tender chicken and soft potato, in a thick and coconut creamy sauce. The portion size was generous, and thankfully no bones or bits of tendon to put the kids off. Nuage is a great spot for dining with kids, with plenty of menu dishes that would perfectly suit a younger palate. The novelty of sitting in a rickshaw chair only adds to the fun for younger diners. The staff was polite, although service was a little slow. The toilets are western style, clean, and with wash basins with soap.
When we first arrived in Beijing, we dined at Nuage a few times, and always had a great meal. I have no idea why we haven't been back more often. Perhaps it's because we like trying out new places, we then forget about the fabulous mainstays. So it's on our list for an evening return without the kids, so we can sample more of their enticing menu, including their popular spring rolls assorted platter, beef pho, sweet and sour tilapia, and honey ginger prawns. The drinks include a range of local and imported beers, good wine selection, and some great sounding cocktails. Best save those for after the skating.
This article first appeared on beijingkids.
Photos: Sally Wilson

Visit the original source and full text: the Beijinger Blog