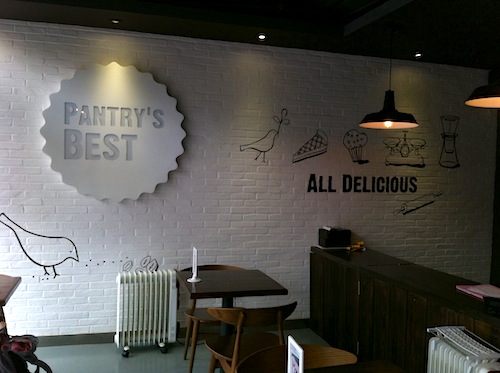 "Illnois - Beijing - Shanghai" reads the sign outside of Pantry's Best's new store front just north of Ritan Park. It's a seemingly odd line-up of locations, but if your mission is to bring the American pie tradition to China, what better place to come from than the heartland? Formerly known as "Pie House" (and formerly delivery-only), Pantry's Best has shot down some roots with a new cafe.
The space is on the upper floor of Ritan High Life at 39 Shenlu Jie (same complex as CD Blues, Ravioli Factory, and an Annie's branch). It's relatively small, with room for about half a dozen tables, but comfortable and fitting for an afternoon of work, fortified by a slice of pie and a coffee.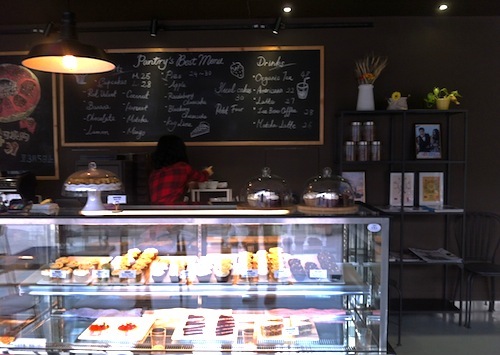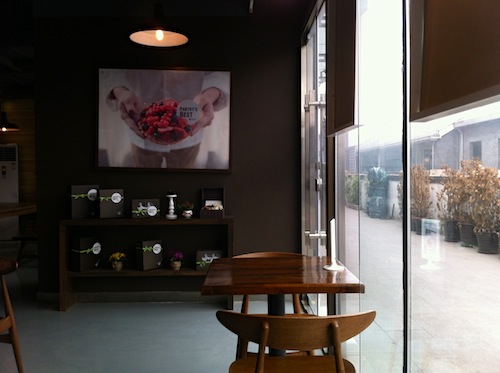 The menu is simple: cake and coffee. The barista can do americanos (RMB 22), lattes (RMB 27), an ice brew (RMB 28) as well as a matcha latte (RMB 28). The refrigerator case is inspiring – pie and cakes rotate daily and can be bought by the slice, while the top shelf holds the spread of their seven different kinds of cupcakes.
Beginning with the best: go here for the apple pie. In seriousness, it is off-the-hook – a crispy, sticky bottom crust, a flaky buttery top crust and well-spiced, soft apples in the center. It may not be a beauty queen, but it has its rustic charms and is the best I've had so far in Beijing.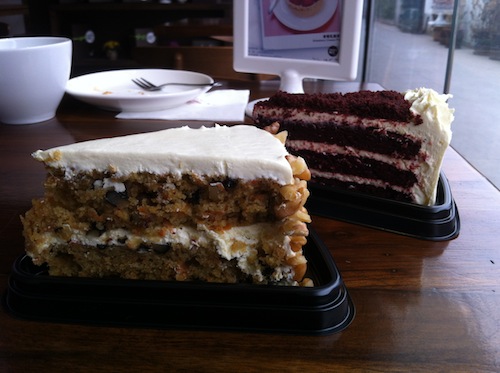 Unfortunately, Pantry's Best probably should have stuck with the former name of "Pie House" as the other baked goods don't approach the quality of the pie. The slices of cake were disappointing. What should have been a thick, luxurious frosting for both the carrot cake and red velvet was instead too light and without the tangy or weight of a good cream cheese frosting. This was the main offense, and unfortunately, the crumb of the cakes didn't do much to redeem it.
The frosting problem carries over to the cupcakes – or at least the Harvest and the lemon varieties. But props to them for creating that divot which would be a welcome feature were the icing better.
The chocolate cupcake with its proper ganache frosting and a more-than-serviceable crumb was the best of the cupcake lot.
The pie alone is reason to hit up the new Pantry's Best shop (or order a whole one for delivery), but the space itself is nice enough that I could imagine late mornings and afternoon spent over a latte and chocolate cupcake – plus a friend or a laptop, of course.
Pantry's Best
Sun-Thu 11am-8pm, Fri-Sat 11am-9pm. Unit 92-93, 3/F, Ritan High Life, 39 Shenglu Jie, Chaoyang District (4008-3-14159)
朝阳区神路街39号日坛上街3层92-93
Photos: Cat Nelson
More stories by this author here.
Email: [email protected]
Twitter: @haimei_baole
Instagram: @haimei_baole
Weibo: @cat_nelson

Visit the original source and full text: the Beijinger Blog