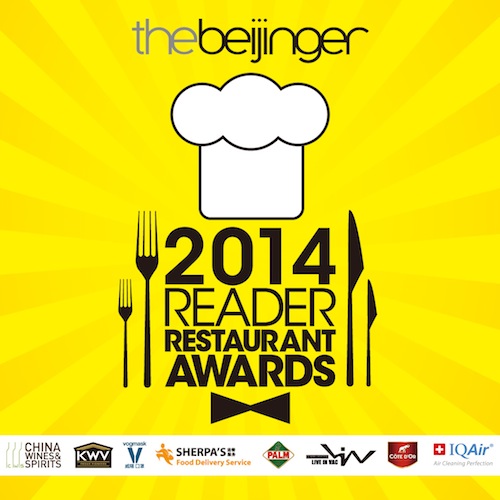 Open, close, open, close. That's the jam of the Beijing dining scene. There were some notable closings – most striking was the shuttering of Maison Boulud – but this past year also brought a whole host of new restaurants to the table. In a town where dinner out is the norm, this is excellent news. We have our opinions (here and here) on what's new and best in town, but what we're really interested in is what you think is best. And for that we have our annual Reader Restaurant Awards.
So, the contenders?
Best New Restaurant (Non-Chinese, Fine Dining)
Brian McKenna @ The Courtyard
Conrad Beijing (29 Grill)
Four Seasons Beijing (Mio)
Hilton Beijing Wangfujing (Flames Grill)
Missa
Okra
Opera Bombana
Pinotage (Sanlitun)
The Westin Beijing Chaoyang (Mai)
Best New Restaurant (Non-Chinese, Casual)
Brick and Wood
Cantina Agave
Chi
Great Leap Brewpub
Home Plate Bar-B-Que
Ink
Moka Bros
O'Steak
Pie Squared
Stuff'd
Xalapa
Best New Restaurant (Chinese)
Big Bowl Small Plate 大碗小蝶
Conrad Beijing (Lu Yu 陆羽)
Diaoye Beef 雕爷牛腩
Four Seasons (Cai Yi Xuan 采逸轩)
Hani Gejiu 哈尼个旧
My Humble House (Parkview Green) 寒舍羲和 T
he Opposite House (Jing Yaa Tang)
Wang Jia Sha 王家沙
All set? Vote here.

Visit the original source and full text: the Beijinger Blog