Warning
: preg_match_all(): Compilation failed: invalid range in character class at offset 119 in
/home/chinaexp/public_html/wp-content/plugins/membership/membershipincludes/classes/membershippublic.php
on line
848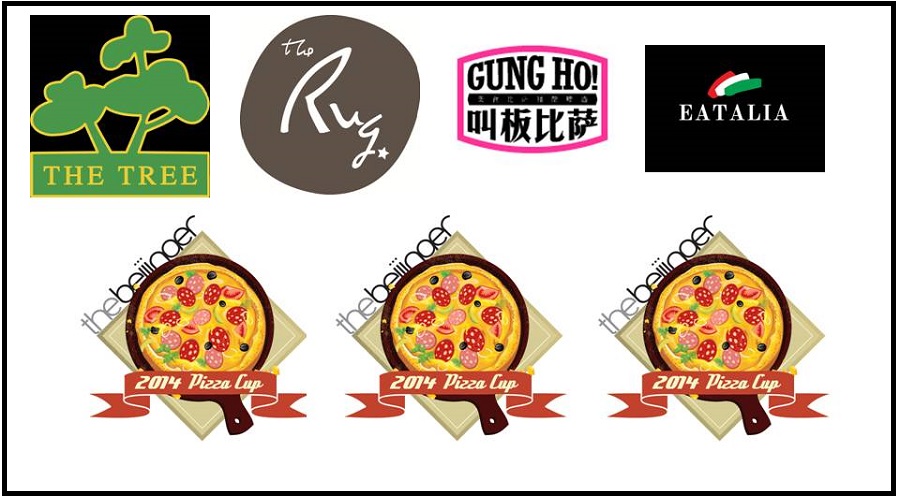 Action in the Elite 8 concluded last night, with the four division champions – Gung Ho!, Eatalia, The Tree, and The Rug – moving on to meet in the Final Four.
Gung Ho! booked their ticket into the Final Four with a victory over La Pizza in the tough Pizza Specialists division. With perhaps the most challenging route to the finals, the Gungsters had previously made mincemeat of Domino's and dispatched Hutong Pizza before edging past Pizza+ and finally La Pizza to reach the top of the heap.
In the Mid-Range Restaurants division, second-seeded Eatalia moves on with a victory over Alio Olio. Eatalia started their Cup with a victory over Abella Italian Restaurant, followed by victories over Scott's Family Restaurant, Vineyard Cafe and finally Alio Olio to reach the peak of their division.
The Tree's path to the top of the Bars/Clubs division sent them past Sugar Shack in the most recent round. Previously The Tree had felled Laker's, The Local and Bang! Bang! Pizza.
On its way through the unpredictable Upscale Restaurants category, The Rug slipped past Kitchen Igosso in the Elite 8. Their previous victories included edging past the Kempinski's Via Roma in the first round, The Opposite House's Sureño in Round 2, then over The Four Season's Mio before its latest triumph over Kitchen Igosso.
Gung Ho, representing the Pizza Specialists category, now meets Upscale Dining champ The Rug to determine a slot in the penultimate match. Meanwhile on the bottom half of the bracket, Mid-Range champ Eatalia faces off against Bar/Cafe champ The Tree.
Voting in the Final Four is open through midnight Thursday, November 20 ... so get voting!
Final Results from last round's Elite 8 Voting:
The Tree (#1) uprooted Sugar Shack (#3)
Eatalia (#2) greased Alio Olio (#4)
The Rug (#8) floored Kitchen Igosso (#7)
Gung Ho! (#5) rolled La Pizza (#3)
In our runner-up matches:
Pizza Plus (#1) bested Tube Station (#7)
Mao Mao Chong (#2) shot down Bang! Bang! (#13)
Vineyard Cafe (#3) squeezed by Annie's (#1)
La Dolce Vita (#6) surpassed Mio, Four Seasons Hotel (#4)
Based on the margin of victory and total number of ballots received, we've derived the rankings of those that have been eliminated from the original field of 64, which gives us our initial seedings for 2015:
5. La Pizza
6. Alio Olio
7. Sugar Shack
8. Kitchen Igosso
9. Pizza Plus
10. Mao Mao Chong
11. Vineyard Café
12. La Dolce Vita
13. Annie's
14. Tube Station
15. Bang! Bang! Pizza
16. Mio, Four Seasons Hotel
Rankings 17-75, as determined in previous rounds:
17. The Kro's Nest
18. Pizza Express
19. Hutong Pizza
20. Sureño, The Opposite House
21. Tavola
22. Pie Squared
23. The Irish Volunteer
24. Stuff'd
25. Scott's Family Ristorante Italiano
26. Isola
27. Peter Pan
28. 1st Floor
29. Lily's American Diner
30. LMPlus
31. Luga's Little Italy
32. The Local
33. Papa John's Pizza
34. New York Pizza
35. Xian Bar
36. Domino's
37. The Den
38. Frost
39. Pizza Buona
40. Pizza Hut
41. The Veggie Table
42. Ramo
43. Twilight
44. Mrs. Shanen's
45. Yummy Box
46. Lakers
47. Charlie's
48. Grandma's Kitchen
49. Nanjie
50. Loft Eatalicious
51. Matta
52. Peter's Tex-Mex
53. FA Cafe
54. Time Cafe
55. Fratelli Fresh
56. Agrilandia
57. Flypizza & Hoodadak Chicken
58. Via Roma
59. Elisa's
60. Passby Bar
61. Abella
62. Bene
63. Prego
64. WhaleWell Pizzeria
65. Red House
66. Hercules
66. M+ Café
66. Nasca Cafe
67. Paddy O'Shea's
68. PBD Pizza Bar
69. Pizza Maru
70. Bella Vista
71. Alba
71. Parkside Bar & Grill
71. Windy City
71. The Yard
72. Amigo Pizza
73. Paro
74. Sarpino's Pizzeria
75. Fuel
Images: The Beijinger

Visit the original source and full text: the Beijinger Blog