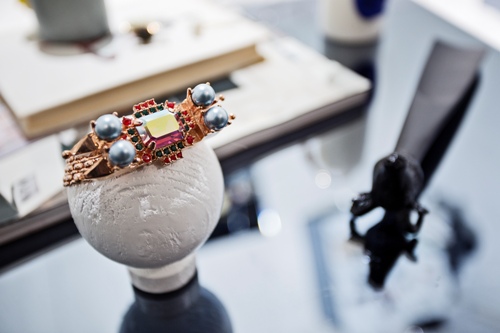 The first edition of Chi Garden took the form of a petite, artsy boutique on Beiluogu Xiang. The two-storey shop could transport one from a dusty hutong street to an attic tastefully cluttered with the clothing menagerie of a '90s high-fashion fiend. Under bulbous glass covers and draped across sleek, white mannequins were one-of-a-kind designer pieces from past seasons, ideal for a glamorous night out.
Then, Chi Garden disappeared almost as soon as it appeared.
As if to reiterate the speedy evolution taking place in Beijing's fashion world, owner Wang Hua had changed her strategy. After just a few weeks, she had reimagined and renovated Chi Garden, this time, choosing a minimalist decor – bare white walls, mirror shelves, and ivory-colored pebbles – creating an optimal space for small-scale events and photo shoots. Because she received feedback from
shoppers that her hutong location was far from convenient, Hua later expanded Chi Garden to a "moving closet" concept, where customers could browse looks online, request delivery to anywhere, and receive style advice.
Although Gulou's hutongs are slowly seeing more independent multi-brand stores, like Wuhao and S.T.A.R.S., Hua is well aware there are still many clients who think Chi Garden's sophisticated and pricy clothes stick out like a sore thumb. But when asked why she doesn't relocate to somewhere like Sanlitun, it's clear that the Central Saint Martins grad sees her shop as much more: "I just want people to appreciate the design and the brand. If I sell in Sanlitun, all people will care about is whether or not it's fake and whether it's a luxury label."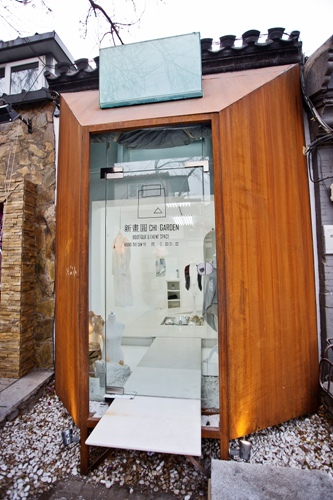 Hua herself highly regards designers like Belgium's Martin Margiela and China's Yifang Wan, who boast androgynous, contemporar y looks that apply concepts like deconstruction, elongated and oversized proportions, and offbeat adornments. Her picks reflect a style view in China that just recently started to bloom and is still rarely represented in mainstream fashion.
"The idea that women should dress to please a man is stupid," Hua says. "There are many ways to be beautiful. You don't just have to wear short skirts and high heels – you can be yourself."
Chi Garden (Tumblr)
Tue-Sun noon-9pm. 93 Beiluogu Xiang, Dongcheng District (8408 3081)
东城区北锣鼓巷93号
Also try: S.T.A.R.S., Q Apartment
Read this and other venue reviews in the February issue of the Beijinger magazine:
Photos: Ken

Visit the original source and full text: the Beijinger Blog