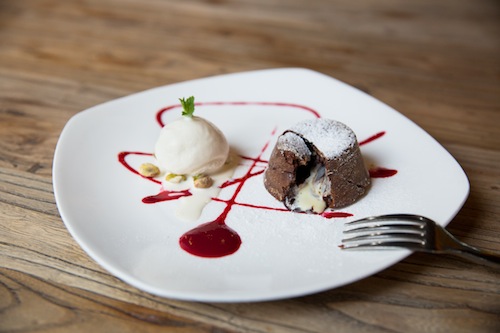 Until I moved to Beijing, there had been two awkward requests for dessert only and an unabashed notable chocolate cakes in my life. It was by way of the first – a dense affair glazed with a rich blend of heavy cream and chocolate – that, at the age of six, I learned the word "ganache." It made single-digit birthday appearances for most of childhood, numbers in icing declaring the swift march of years.
The next love of my young chocolate life began in my junior year in college at a moment when time in the kitchen – even one in a dormitory – is the best thing to interrupt a spate of loneliness. A classic cake in the truest American sense, the crumb was moist, but light and the frosting a simple buttercream.
Unexpectedly, I fell into my third significant romance in Sanlitun. Mosto rescued the requisite first Beijing year of disappointing desserts with their warm chocolate soufflé (RMB 80). The discovery of its molten center prompted late-night cab rides across town, mildly greediness for concentrated hits of chocolate.
There is a totality to this compact round of a sweet thing; it is a tiny complete Earth unto itself. Use your spoon tenderly, and you will slowly break through the outermost cakey crust into a moist mantle of chocolate before a liquid core spills out with accents of white chocolate amid the dark. The universe of the dish extends beyond the soufflé as the kitchen nods to ostensibly less decadent flavors. A trellis of raspberry coulis lies beneath, and a small mound of vanilla ice cream nearby is bolstered by several small pebbles of pistachio. As is law, entropy prevails in this universe. With one fatal stroke of the spoon, what was once orderly and discrete devolves into a sublime mess of molten chocolate smears, pureed raspberry streaks and trails of melted ice cream – a particular chaos to which you happily surrender yourself.
Email: [email protected]
Twitter: @haimei_baole
Instagram: @haimei_baole
Weibo: @cat_nelson
More stories by this author here
A version of this article appears in the February 2014 issue of the Beijinger
Photo: Joey Guo