Tomorrow's the big morning, with NFL fans ready for what promises to be an amazing Super Bowl between the Denver Broncos and the Seattle Seahawks. We hope you'll join the Beijinger at the Kerry Hotel Beijing for the Official Super Bowl Party. There are also plenty of other viewing events going on, and by the way, the game is NOT being broadcast on CCTV-5. Here's a round-up of places to watch, what NFL fans in China think the sport needs to do to grow here, and other NFL stuff from the year.
Where to Touch Down for Super Bowl XLVIII
At least 12 different venues are showing the game. Visit your favorite, try someplace new, or join the Beijinger at the Kerry Hotel Beijing for the NFL's official Super Bowl party there.
NFL Fans in Beijing Chime in on Bringing Their Favorite Sport to China
To give away two pairs of tickets to the NFL's official Super Bowl Party at the Kerry Hotel Beijing, which the Beijinger is proud to sponsor, we asked Beijinger readers to answer a simpla question: What does the NFL have to do to make American football as popular as the NBA or soccer in China? We received some great answers and thought we'd share them as the game approaches Monday morning.
Not an Average Joe: NFL Icon Joe Montana Visited Beijing in November
Four-time Super Bowl winner Joe Montana made his first visit to China in November, where he joined the NFL for an event at the Kerry Hotel Beijing. Along with being nice enough to pose for a photo with every single participant, Joe answered some questions for our sister publication beijingkids. Click here to read the interview. By the way, Joe predicted the Super Bowl match-up of Denver versus Seattle.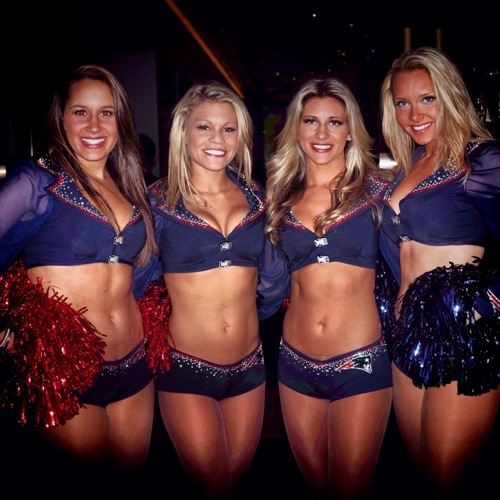 Cheer Up: NFL Cheerleaders May Be Gone, But Football Is Still on the Way
It seems it just wouldn't be an NFL season in Beijing if the New England Patriots Cheerleaders didn't show up. Returning to Beijing for a seventh time, they showed up for a Monday Night Football viewing party and also did a cheer clinic at a local international school.
Enjoy the game Monday! Kick-off is at 7:30am local Beijing time.
Photo: Adweek, marsmettn tallahassee on Flickr, Football Perspective, Halestormsports.com/Manny Rubio, Frank Yu