This has been a pretty big week for live music in the capital, with North American pop stars Avril Lavigne and Bruno Mars both planning on visiting in the coming months, and the Jue Festival finally nailing down a list of amazing acts to perform in March. Make sure to stay close, and follow Talking Tunes, so you can remain informed abut the latest and greatest coming to Beijing. 
Tonight, "Bond Girl," Sophie Marceau will be performing La Vie En Rose with Chinese singer Liu Huan, on CCTV. Considered a tribute to 50 years of friendship between China and France, the two countries established diplomatic relations in 1964. This will probably be the first of many events to celebrate years of moderate cooperation between the two countries, and what better way to do that than two beautiful faces from each respective country doing a little sing song. 
In other Gala news, Melbourne indie pop group Syre & Fresko, have been invited to perform at Beijing TV's Spring Festival Gala concert. Coming together in 2012, this husband and wife duo received a call from Triple J's Unearthed team, inviting them to be featured in a television series that gives international acts the opportunity to perform at China's biggest new year celebration. 20 million people tuned in to each episode, and the viewers selected the contestants they would most like to see play at the Gala. Long story short they won the contest, and are back for a one night only performance on BJTV. This Cinderella story concludes tonight, so check out what all the hype is about.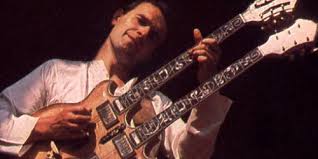 Legendary guitar player John McLaughlin will be touring Asia for the first time in 5 years. He will be joined by his band, The 4th Dimension, featuring multi-instrumentalist Gary Husbandon on piano and drums, Etienne M'Bappe on bass, and Ranjit Barot on drums. John McLaughlin has played with Miles Davis on numerous albums, including my favorites On the Corner and Bitches Brew, and was the ringmaster for Mahavishnu Orchestra. The Beijing show is planned for March 29 at The One Club. This is your chance to catch a truly amazing no frills guitar act. In the world of guitar geniuses, I would say this is a huge step up from Steve Vai, who came last year. 
Other live music events to check out this week:
Photo: Courtesy of China Daily, Pop Matters