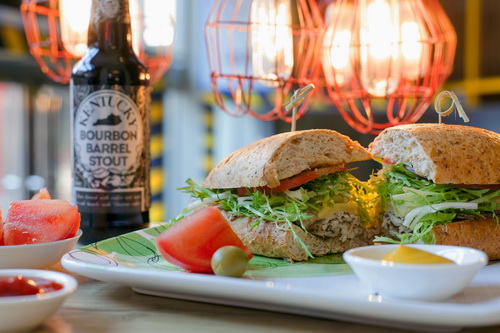 Amidst the rapid development happening in Wangjing, Picture My Cup has placed its final touches up on the walls and seems poised to secure itself as a go-to place in the neighborhood for high-quality American brunch and lunch fare.
Following the huge success of Kro's Nest, owner Marty Handley is taking a step back from the world of pizza, and adding sandwiches, hot dogs, all-day breakfast and delectable lunch specials to his new venture. Coupled with a satisfying drinks menu – especially for those who enjoy the odd alcoholic beverage – Picture My Cup is a welcome innovation to Wangjing.
Their signature item, a customizable sandwich (RMB 55), gives the choice of one type of bread, one meat, one cheese, one sauce, and one side dish. For the mathematicians among us, I believe that equates to a lot of delicious options available. The multigrain bread tasted like one from a farmers' market – hot and fresh with a captivating aroma that brought the countryside onto the plate. White cheddar cheese melted into roast beef, accented by a jalapeno whole grain mustard. With so many choices to be made, Picture My Cup is guaranteed to snap up new customers very quickly. 
Picture My Cup
Mon-Sat 8am-8.30pm. Unit 158, Bldg A5, U-Lo Park,
Guangshunnan Dajie, Chaoyang District (5361 6770)
朝阳区广顺南大街悠乐汇A5座158商铺
800m southwest of Wangjing station (Line 15)
A version of this article appears in the February 2014 issue of the Beijinger
Photos: Sui