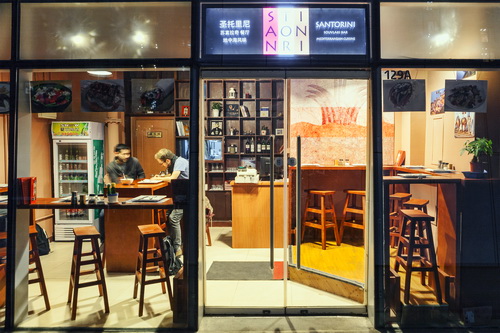 Tucked around the backside of one of the lesser known Sohos – the Guanghua edition – Santorini Souvlaki Bar doesn't offer itself up for much foot traffic. It's also rather compact, seating possibly 12-15 people, and even that would be cozy.
Definitely skewing more towards a casual dining experience, it's the kind of place you simply turn up at, enjoy a bite, and be on your way. The backless stools don't really allow for much hanging about.
Though self-described as Mediterranean, the menu concentrates primarily on handheld Greek cuisine, with, you guessed it, souvlaki as the hero. We opted for the pita with grilled vegetable souvlaki (RMB 16). It was a soft, fresh pita wrapped around well-grilled vegetables and a tzatziki sauce. Satisfying but, in hindsight, not as moreish as the pita with pork souvlaki (RMB 19) might have been with its cheeky inclusion of French fries in the filling.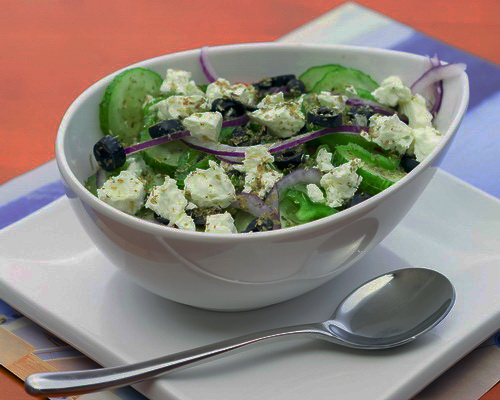 Also on the order was a fresh Greek salad (RMB 15/24), which was sprinkled with soft feta and seasoned perhaps not so pleasingly with dried herbs, a side of pita bread (RMB 6), and serving of delicious tzatziki sauce (RMB 8), which was simultaneously piquant and creamy. We also attacked the grilled skewers, including a vegetable offering (RMB 4), which came deconstructed on a plate, and the pork one (RMB 5/7), which at first appeared to be a little dry, but was actually wonderfully juicy and tender inside.
Santorini Souvlaki Bar isn't rigidly sticking to its roots – the menu sways like a drunken sailor at sea. For the most part, it's Greek, but pasta dishes offer an Italian flavor, Schnapps a German one, and a few Chinese additions give a nod to local preferences. Regardless, the food is tasty, the atmosphere friendly and relaxed, and the prices cheap enough to steal you away from your regular local eateries for an affordable Western lunch or quick bite for dinner.
Santorini Souvlaki Bar
Daily 10am-10pm. 3-129A Guanghua Lu Soho, 22 Guanghua Lu, Chaoyang District (5290 7261)
朝阳区光华路22号光华路Soho3单元129A室
A version of this article appears in the February 2014 issue of the Beijinger
Photos: Sui