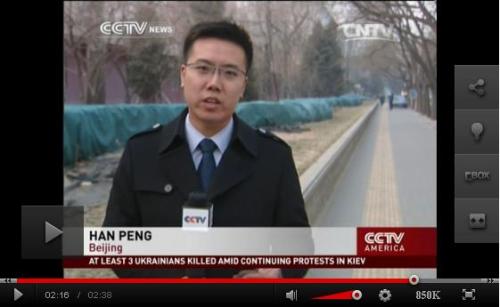 Who says watching television in China isn't entertaining? In the clip below, which appeared under the straightforward headline "Beijing passes regulations to combat smog," China Network Television (CNTV) reporter Han Peng says at about the 2:17 mark that Beijing Mayor Wang Anshun would "kill himself" if pollution does not improve by 2017.
Whoa. That's quite a statement for the mayor of the capital of the world's most populous nation to make and generate seemingly little reaction from China's hair-trigger netizens. The Beijinger decided to investigate and find out if something was lost in translation.
Indeed, despite Han's emphasis on the phrase "kill himself," that's not really what Mayor Wang said. Instead of 自杀 (zìshā, to commit suicide), what Wang said instead was "提头来见," (tí tóu lái jiàn, putting heads on a platter). Here is a translation of part of the report on his statement regarding pollution in Beijing:
"Wang Anshun recalls that he brought a courageous determination with him to act decisively when signing this policy during this dangerous 'life or death situation': 'If policies to effectively combat air pollution have still not yet been implemented by 2017, anything political leaders say won't just be a joke, but also a serious statement along the lines of 'putting our heads on a platter.'"
It's not nearly as sensational as "I'll kill myself," but "putting our heads on a platter" is a statement for which the mayor is now well-known.
Oh, by the way, this report mentions that the municipal government will spend an eye-watering RMB 760 billion to clean up the capital's air, and deploy 17,000 cameras to stamp out the menace of streetside barbecue grills, which are clearly a greater threat to clear air than say, nearby industry or millions of automobiles. In November, 500 charcoal grills were apprehended and summarily executed in a move that couldn't have come too soon.
Regardless, we're pleased that Mayor Wang has bet only his career, and not his life, on resolving Beijing's pollution crisis. Then again, if he's not successful, it's all of us that may lose.
By the way: who were the 23 members of the Beijing Municipal People's Congress who voted against the draft regulation on air quality control, and why did they oppose it? (See the video at 1:32 for the vote count.)
— Charles Liu contributed to this article.
Video: CNTV