Here is the tentative lineup for the upcoming festival JUE | Music:
Acid Mothers Temple: These Japanese gypsies have travelled the world playing their psychedelic music since 1997. The band has gone through many different lineups and side project with each re-iteration still speaking the same dialect of "extreme trip music." I would describe it as a cross between the presence of "loud as god" Blue Cheer, the interstellar attitude of Hawkwind, and the ethos of a hobo Karlheinz Stockhausen. This is the best description I can give considering that they are totally chaotic and of their own unique design. 
And So I Watch You From Afar: A four piece math rock group from Belfast, Ireland that mainly performs instrumental tunes but has garnered acclaim through their intensely technical guitar work, complex rhythms, and intelligent song craft. I just checked them out and their latest effort "All Hail Bright Futures" had a little bit of a Hella vibe, very fast and jaunty to the point where you could probably do a little Irish jig to it. I like when bands hark back to their regional specialties to give their identity an original spine. Give it a deep listen here on Bandcamp.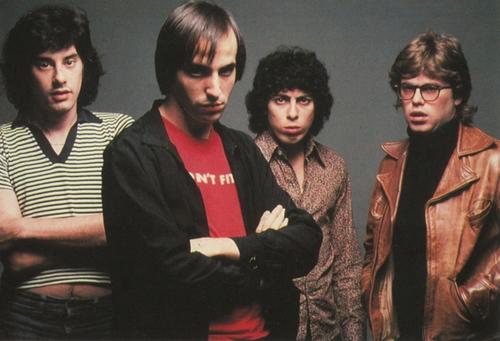 Paul Collins' Beat: Also be joining the Jue line up will be one of the fathers of proto punk, power pop, or whatever you want to call it. The ensemble features members from bands like The Nerves, The Breakaways, and the Beat. Paul Collins is an old dog, but is more like a Lassie than let's say the ones we normally see that have trouble cleaning themselves and no longer have the energy to care about the flies hovering around their fanny. It is truly a spectacular honor, so make it your rock and roll duty to attend.  
In other news, tonight is MIJI Lab 2 with Anla Courtis. This guy has one of the most prolific catalogues of any musician living or dead. Formerly of the group Reynols, he has mastered the field of avant-garde that is high concept, yet remains unpretentious. Courtis has collaborated with the likes of Pauline Oliveros, Lee Ranaldo (Sonic Youth), and Damo Suzuki (Can). Check him out tonight at Zajia as he leads you through a little workshop on how to be an art star music deviant that only a mother could love; the show is rounded out by a superb lineup of local experimentalists like Yan Jun, Soviet Pop, Feng Hao, and Liu Xinyu. 
Also, Taiwanese playboy and pianist extraordinaire, Jay Chou, will be returning to Beijing on May 24. Come see this Renaissance man as he embarks on his 2014 world tour. Tickets are for sale at Damai, get them quick because he is hotter than the Gobi desert and a more chiseled figure than an east-facing university campus statue of Chairman Mao. 
Other notable music events coming up later this week:
Photos Courtesy of: Jue Festival, Wire, Soundcloud, Last Fm, and Blogspot