Warning
: preg_match_all(): Compilation failed: invalid range in character class at offset 119 in
/home/chinaexp/public_html/wp-content/plugins/membership/membershipincludes/classes/membershippublic.php
on line
848
Every month we tally the hits from thebeijinger.com to provide the five most viewed blogs from our website.
1. DRUM AND BELL TOWER AREA FACING DEMOLITION
After years of talk, the aging hutong areas surrounding the Drum and Bell Towers are finally being demolished to make way for new developments. Homes and restaurants were tacked with demolition notices marking a new era of uncertainty for many long time residents and businesses in the area.
2. RANDOM DRUG TESTS AT 2 KOLEGAS SEE 30 ARRESTED
A police raid at popular live music venue 2 Kolegas saw everyone on-site forced to provide urine samples. At the time it was reported that up to 30 suspects, including several foreigners, were arrested after returning samples positive for narcotic use. That figure was later revised down but the foreigners who tested positive were said to have been detained prior to immediate deportation.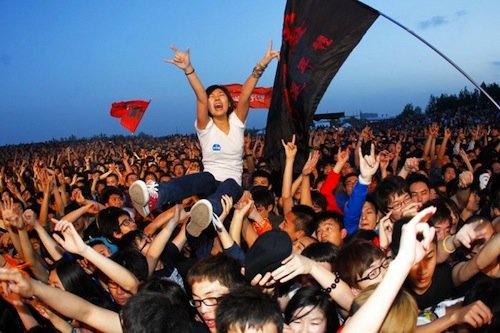 3. BEIJING'S MODERN SKY FESTIVAL SET FOR US DEBUT IN OCTOBER
The Modern Sky Festival will bring Chinese indie rock bands to New York's Central Park October 4-5, when the Beijing-based festival makes its US debut, according to The New York Times. Among the local favorites that will be in attendance are veteran outfits Second Hand Rose, Tongue, and Queen Sea Big Shark.
4. CONDE NAST TRAVELER READERS NAME BEIJING ON UNFRIENDLIEST CITY LIST
Conde Nast Traveler released its list of "The 2014 Friendliest and Unfriendliest Cities in the World." The latest ranking has Beijing ranked the sixth-unfriendliest city behind Frankfurt at number seven, but more amiable than Marseilles at number five while Johannesburg was rated the unfriendliest city in the world.
5. PSB CRACKDOWN ON DUAL CITIZENSHIPS
Sina News reported that the Public Security Bureau will crack down on dual citizenships, namely "people who obtain citizenship in another country but try to keep their Chinese citizenship and hukou." The move is likely to affect mixed-nationality families, and could force many parents to renounce their children's Chinese citizenship.
For these stories and more, check out our blog.
Photos: Jessica Rapp, arizonaima, the Beijinger, John Wang/Getty Images/CNTraveler, Tim Sackton (via Flickr)

Visit the original source and full text: the Beijinger Blog