Warning
: preg_match_all(): Compilation failed: invalid range in character class at offset 119 in
/home/chinaexp/public_html/wp-content/plugins/membership/membershipincludes/classes/membershippublic.php
on line
848
Since last weekend's launch party, voting has been hot and heavy in the Burger Cup, whereby you have been tasked in selecting Beijing's best burger from 64 contenders.
First off, below you'll find a nice bracket that you can use to follow along at home and forecast your Final Four. If you haven't cast a ballot yet, you'll want to mosey on over to here to make your choices in Round 1 (as you only have till this weekend to do it ...)
With over 700 ballots cast so far, all races remain close, and even those seeded 16th in each bracket are showing signs of life.
Shuangjing's Main Street Bar and Grill, a 16-seed in Bracket A, is giving the bracket's top seed Great Leap Brewing a run for their money, with both burger joints running at almost exactly half the votes.
Meanwhile there's similar longshot action going on in Bracket B, where #1 seed Slow Boat is being challenged by 16-seed Laker's, with no more than a lettuce leaf's distance between them.
Plenty of cow was slung Saturday at the kickoff party, where the 1,000+ visitors that passed through sampled as many burgers as their stomachs would allow from 20 vendors. This diner managed to scarf down four burgers before reaching capacity.
Alibi's burger was a favorite given the patty was massive and filled with molten cheese. Most lovingly prepared was Pentalounge's mini-burger -- with Penta's head chef supervising, each burger was a work of art.
Beer Mania's offerings –  mini-burgers coated with black sesame seeds –  were winners in both the presentation and flavor department, while The Local is a personal fave and I could not pass their stand by without picking one of their creations up (along with a bottle of their homemade Buffalo Wing sauce). Alas, I had but one stomach to give for the event and thusly had to pass the other vendors by ... all of which looked fantastic.
The full bracket is below: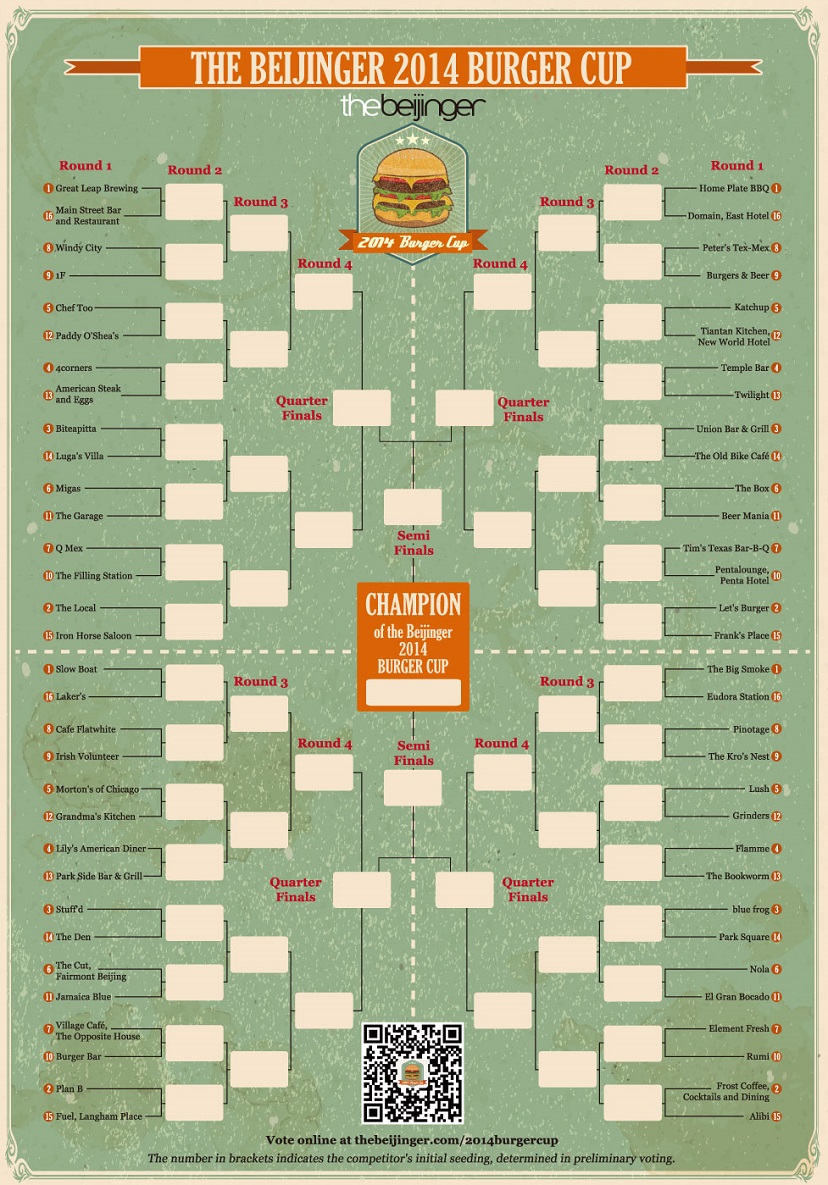 If you haven't cast a ballot in Round 1 yet, now's your chance –  the field gets cut to 32 as of Monday (Sep 1) so get that mouse of yours into action to click on over to the 2014 voting page here.
Photo: the Beijinger

Visit the original source and full text: the Beijinger Blog