Warning
: preg_match_all(): Compilation failed: invalid range in character class at offset 119 in
/home/chinaexp/public_html/wp-content/plugins/membership/membershipincludes/classes/membershippublic.php
on line
848
Perhaps it's my British upbringing (we are globally renowned for our queuing skills, after all), but since I arrived in Beijing, I have always been fascinated by the fervent crowds that gather outside some of the Capital's restaurants every day. So, like the intrepid anthropologist I am, I struck off on a quest to find out just what it is about these venues that keeps people going back day after day.
Is it that the food is genuinely delicious and good value? Are people scared of missing out on what they've seen on social media and review websites (WeChat groups regularly publish round-ups of Beijing's most popular restaurants)? Or is it simply force of habit?
Whatever the reason, the question remains: Is it worth the wait?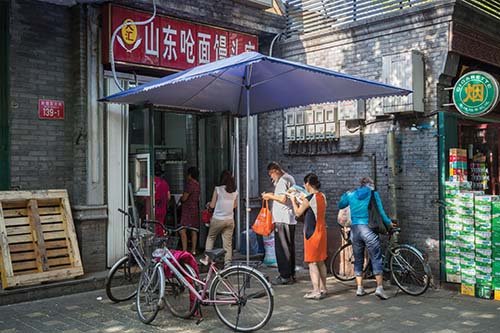 8am: Shandong Qiangmian Mantou Dian, Gulou Dongdajie
Everyone in Gulou has had to navigate past the queue of ayis blocking the pavement outside this unassuming storefront peddling steamed mantou at some point. Explanations as to its popularity are not forthcoming; everyone we ask simply says: "We've been coming here for years." We grab a bag of the mountainous steamed beauties (RMB 1 each) to go. My friend, who considers himself a connoisseur of all things bread-related, declares them "slightly pointless" and I start to hope this doesn't become a metaphor for today's exercise. However, the tang san jiao, steamed buns stuffed with brown sugar (RMB 2), make the wait worthwhile.

Average queuing time: 20 minutes
Worth the wait? To say you've done it, yes. In truth, the fresh mantou are much better than shop bought ones.
1pm: Xishaoye Roujiamo, Wudaokou
Eateries in Beijing's office areas are notoriously crowded, so escaping to one of the outside stalls must be a better option, right? Wrong. Snaking queues form outside this small stall in Wudaokou every day, lasting well into the late afternoon. The stall specializes in roujiamo, crusty bread pockets filled with shredded meat – arguably the perfect take away lunch. Rumored to have been started by a former Tencent employee, Xishaoye has received a fair amount of hype on Chinese social media, but perhaps the real reason for the queues is that it fulfills the main requirements of contemporary office eating culture: get in and out as quickly as possible for as little money as possible.

Average queuing time: 30 minutes
Worth the wait? No. Even if you happen to be in Wudaokou, there are much better ways to spend your lunch hour than queuing for a chopped meat sandwich (even if it is a good one).
6pm: Waipojia, Wangfujing APM Mall
The Dianping reviews of this otherwise unassuming branch of Zhejiang-style restaurant chain Waipojia number in the thousands. On the weekend, wait times can stretch well beyond two hours. So what is it that keeps the crowds stacking up outside? In a nutshell, cheap prices. At RMB 3, their signature mapo doufu (an admittedly solid rendition) is so cheap they are practically giving it away. Every table orders at least one portion. The location in Wangfujing's trendy APM Mall, home to a shiny Apple Store and Beijing's only branch of Forever 21, certainly doesn't hurt.

Average queuing time: 60-120 minutes
Worth the wait? No. True, you'll struggle to find cheaper mapo doufu in the city, but it doesn't compensate for the uninspiring atmosphere and extreme wait times. If you just have to have spice, you'd be better off queuing at Zhang Mama.
11pm: Huda, Guijie
On any given night, you will find a small forest of stools outside Huda's flagship location on Guijie, blocking the sidewalk, ready to anticipate the waves of people who will fill them well into the early morning. The hoards milling around outside, cracking sunflower seeds and shooting the breeze, are all here for one thing: spicy crayfish. Locals and Beijing newbies alike come to sample the spiny beauties, which are sold individually (RMB 3/4/5/7) and, if Dianping is anything to go by, are considered some of the best in town. Maybe it's my aversion to peeling my own shellfish, but for me this one is pure hype; like seeing a queue and joining it just to see where you end up.

Average queuing time: 90 minutes
Worth the wait? Absolutely. The Guijie experience is a unique, and at times trying, one, but the carnival atmosphere more than makes up for it. Our top tip for Huda: go during the day and take an advance number. You will be given priority for table allocation no matter what time you arrive.
Photos: Mitchell Pe Masilun, Robynne Tindall, welcometochina.com.au

Visit the original source and full text: the Beijinger Blog