Warning
: preg_match_all(): Compilation failed: invalid range in character class at offset 119 in
/home/chinaexp/public_html/wp-content/plugins/membership/membershipincludes/classes/membershippublic.php
on line
848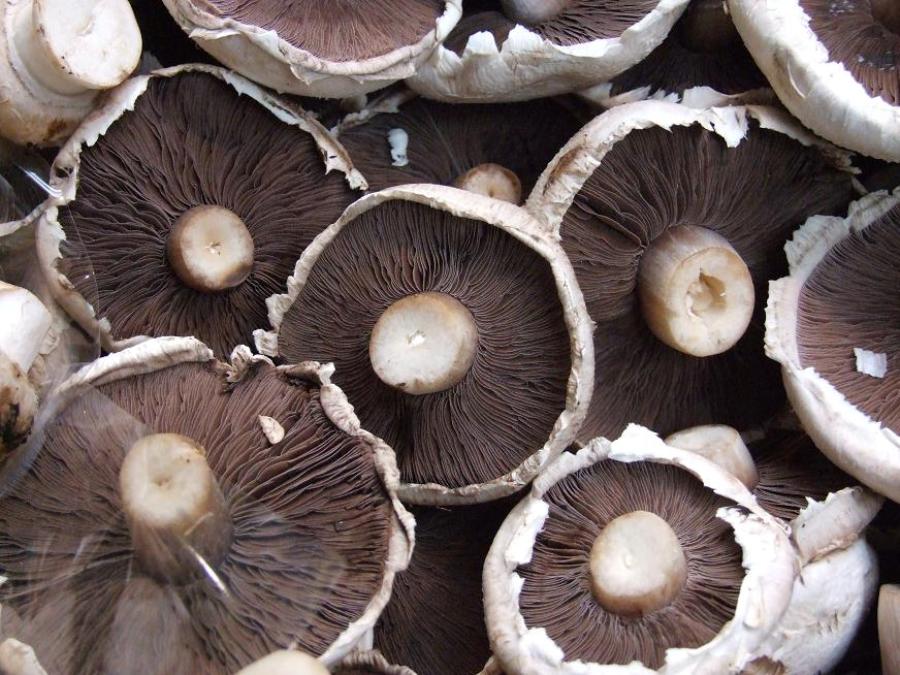 Late summer-early autumn is prime mushroom season and at this time of year market stalls around town should have a wide selection on offer. The mushrooms are crying out for a turn in the wok, but for those of use who are used to the usual tiny selection on offer in Western supermarkets, the choice can be a bit bewildering. Below is an introduction to some of the most common cultivated varieties, but if you get the chance, make sure to check out some of the wild mushrooms on offer at Beijing's Yunnan and Sichuan restaurants right now.
Shiitake (香菇)
Shiitake are the gold standard of Asian mushrooms, cropping up time and time again in Chinese and Japanese cuisine. The Chinese name means fragrant mushroom and indeed these fungi have a strong, almost meaty, smell both raw and cooked. Although they are most often found in Chinese dishes, such as braised mushrooms with cabbage (香菇油菜) try them Western-style in a quinoa salad.
Recipe: Shiitake Quinoa Salad from I Am A Food Blog 
Oyster Mushrooms (平菇)
Oyster mushrooms (or "flat mushrooms" in Chinese) are one of the most common cultivated mushrooms on offer in Chinese markets. They benefit from light cooking such as sautéing or stir-frying. Or, deep fry them and serve sprinkled with salt and Sichuan pepper.
Recipe: Salt and pepper oyster mushrooms (in Chinese)
Enoki (金针菇)
With their pleasantly chewy and resistant texture, enoki mushrooms are often used in soups such as miso. In China, they are a popular addition to hot pot, or can be found blanched and tossed with chili oil for a piquant cold dish (红油金针菇).
Recipe: Bacon-wrapped enoki
Porcini (牛肝菌)
As highly prized in Western cuisine as they are in Asian cuisine, porcini have a rich, earthy flavor that is hard to replicate. They are popular in Yunnan cuisine, where they are often stir-fried with ham and peppers. Try them simply sauteed with a steak or in a classic risotto.
Recipe: Spinach and porcini mushroom risotto 
Eryngii or King Oyster (杏鲍菇)
The eryngii's meaty texture makes it a perfect meal for vegetarians. Not suitable to eat raw, it takes on an almost springy texture when cooked. Try it as a substitute for chicken in gongbao jiding.
Recipe: Fuchsia Dunlop's gongbao jiding
Matsutake (松茸)
If you are lucky enough to get your hands on fresh matsutake, otherwise known as pine mushrooms since they grow in the roots of pine trees, then snap them up – the flavor and aroma is exquisite. In Japan, the mushrooms are under threat from a nematode that destroys the roots of the trees they grow under, pushing the already high price up even further. The dried versions are used in high-end Chinese restaurants to brew up complex chicken soups.
Recipe: Matsutake Gohan (Japanese matsutake rice)

Where to eat them:
Rainbow Yunnan Restaurant, Crowne Plaza Beijing Sun Palace
During the height of mushroom season Rainbow flies in wild mushrooms straight from Yunnan. Their Yunnanese chef serves them up in dishes such as stir-fried boletus with fresh chilies.
Asiniuniu
Asiniuniu's mushroom hot pot really tastes like it's doing you good. Dip the cooked mushrooms in a potent mix of chili, coriander, garlic, sesame oil and vinegar.
More stories by this author here.
Email: [email protected]
Instagram: @gongbaobeijing
Twitter: @gongbaobeijing
Weibo: @宫保北京
Photos: Tash Walker, Kim Sacha, Tim Sheerman-Chase, Andrew Huff, Rita Manincor, 石川 Shihchuan, Brandie Kajino

Visit the original source and full text: the Beijinger Blog