Warning
: preg_match_all(): Compilation failed: invalid range in character class at offset 119 in
/home/chinaexp/public_html/wp-content/plugins/membership/membershipincludes/classes/membershippublic.php
on line
848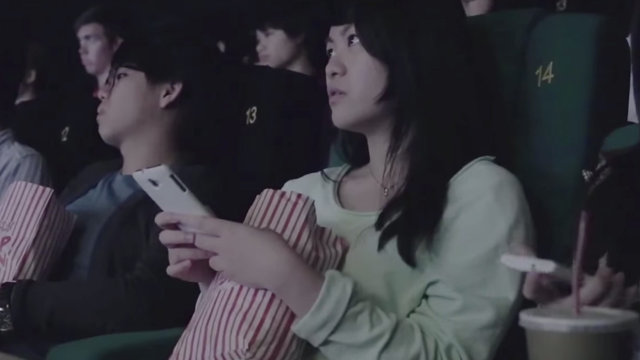 Do you really care what everyone's thinking while you're trying to enjoy the escapism of the big screen? Well, theaters in a couple of major cities across China have started to experiment with live text messaging the screen so that the audience can provide live commentary.
The Hollywood Reporter stated that this "Bullet information" is being sent to the screen by SMS at RMB 0.1 per message. Director Shen Leping (The Legend of Qin), is very excited about the addition of live texting, saying "we are exploring how the response from the audience can affect the movie itself. We are, in fact, putting the director and viewer on equal terms, and I think many of the opinions of the viewers are very helpful for film makers."
These viewer-sourced commentaries are set to become more common on screens showing movies made for younger viewers, but it must first be authorized with the screenwriter before the contract is signed with the producer.
This sort of live dialogue is common on many video streaming sites, but the reaction to its addition on the big screen has been mixed, with one person writing on Sino Weibo, "When the audience complains during the screening, it interrupts our independent thinking and affects our concentration on the film. I don't like it." Maybe they didn't get the message that it isn't about the audience at all, but is in fact just another gimmick to line someone's pockets (I'm looking at you 3D).
Stay entertained with these great events:
Photos: lolfunplanet, the Beijinger

Visit the original source and full text: the Beijinger Blog